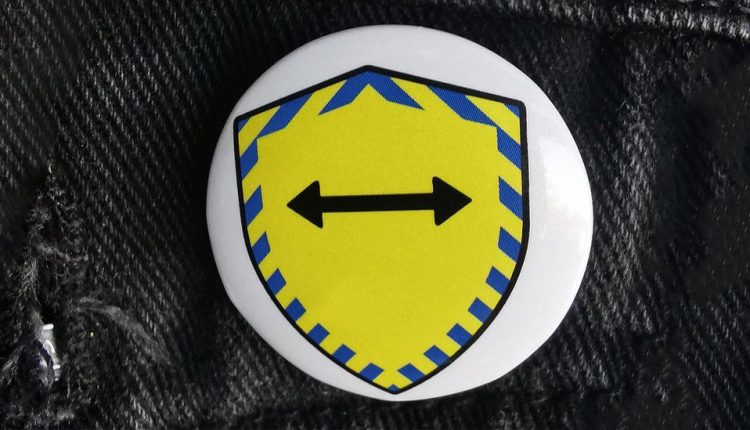 Shield badges for Scots to distance from Covid
Free badges and lanyards have been launched in Scotland for people worried about Covid risks in public spaces.
The items, which show a yellow shield, signal that the wearer would like others to give them extra space.
The Distance Aware scheme is aimed at people at high risk or those who are nervous about mixing with others.
The Scottish government has invested £55,000 in the voluntary scheme. Badges and lanyards are available at libraries and Asda stores from Wednesday.
Scotland to lift most remaining Covid restrictions
What are the Covid rules in Scotland?
"As people become aware of the badge and its meaning, the more effective it will be in helping people to feel safer and less worried when they are out and about."
Health Secretary Humza Yousaf said: "We know that for some people who have been at higher risk or feel anxious about going out in public this is a big step.
"This scheme not only provides vital reassurance to anyone who chooses to wear a badge or lanyard, but also encourages us all to be more aware and considerate of those around us – as we simply don't know their circumstances or concerns."
British Red Cross Scotland's director of independent living, Marie Hayes, said many people experienced loneliness during Covid, and were "fearful of going out of their own homes".
She added: "We believe Distance Aware can help overcome this and help them to re-engage with social activities. This could be invaluable in helping to tackle loneliness."
Asda said there had been interest in the free Distance Aware badges, particularly from more vulnerable customers.
Asda senior director for Scotland, Brian Boyle, said: "As people become aware of the badge and its meaning, the more effective it will be in helping people to feel safer and less worried when they are out and about."