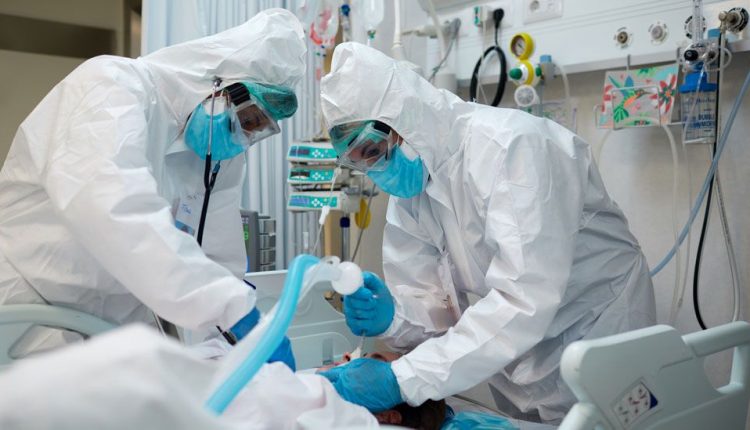 Most Covid patients in Wales in hospital for other conditions
Well over half of patients with confirmed cases of Covid in hospital in Wales are being treated for other conditions, official figures show for the first time.
A total of 42.2% of confirmed Covid patients were being "actively" treated for it on Tuesday.
This means nearly six out of 10 are "incidental" Covid patients being treated for other conditions.
Meanwhile, Covid hospital figures continue to fall.
The number of patients being treated primarily for Covid is far higher for those in critical care – nearly 90%, according to Digital Health and Care Wales.
The average for the last week for Covid patients is just over 40% being treated primarily for the virus.
Figuring out the stats on coronavirus in Wales
Wales' self-isolation to be cut to five full days
Wales' Covid advice 'not an over-reaction'
Omicron stats are huge, but look beyond them
Even though patients might "incidentally" have Covid, it does not mean that it cannot add complications to their health or treatment, and it still presents challenges for patient management for hospitals.
Meanwhile, there were another 220 patients who "probably" or "definitely" caught Covid while in hospital, according to Public Health Wales figures for the last week.
The daily average number of Covid patients in hospital beds dropped for the 12th day in a row to 560 on Wednesday, according to Digital Health and Care Wales.
The daily average for those patients in critical care or on invasive ventilation with Covid has also fallen to 22 – the lowest figure since 11 August.
Daily Covid admissions are also still falling, down to 27 a day.
It follows further indications that infections are falling in Wales.
The latest infection survey by the Office for National Statistics (ONS) suggests – based on swab samples of thousands of people – that one in 30 people in Wales had Covid in the week ending 22 January.
That is 99,500 people, or 3.27% of the population.
This shows another decrease, compared to the estimate of 112,100 the previous week.
This is the lowest estimate of the proportion of the population to be infected, compared to any UK nation or English region.
The survey also suggests that 97.4% of adults in Wales have some protection from antibodies – through vaccination or immunity following infection.
Although slightly less than the other UK nations, it is an increasing proportion and the highest yet recorded, since estimates began more than a year ago.
The estimate is 97.2% of 16 to 24-year-olds would have tested positive for antibodies, although it falls to 96.4% for those aged over 80. It is as high as 98.2% for people in their 70s.
ONS also estimates that 88% of 12 to 15-year-olds in Wales have antibodies.
Latest figures from Public Health Wales suggest a slight rise in case rates, with infections in younger people driving it.
The current daily case average is 2,281
The case rate is 508.7 cases per 100,000, very slightly up on the same time a week ago (1.4%) but broadly similar.
The under-19s age group is making up around 35-37% of positive tests this week, the most since September. We can see cases in the under-16s have risen in the last week, while most age groups have been showing a decline.
There were also a record number of positive lateral flow tests in the latest week – 23,092 from more than 21,100 individuals.
The positivity rate for these tests was 11%, also another record.
We know 80% of people who tested positive were not asked to take a follow-up test, as they would have done before 6 January, and so are not counted in the figures.