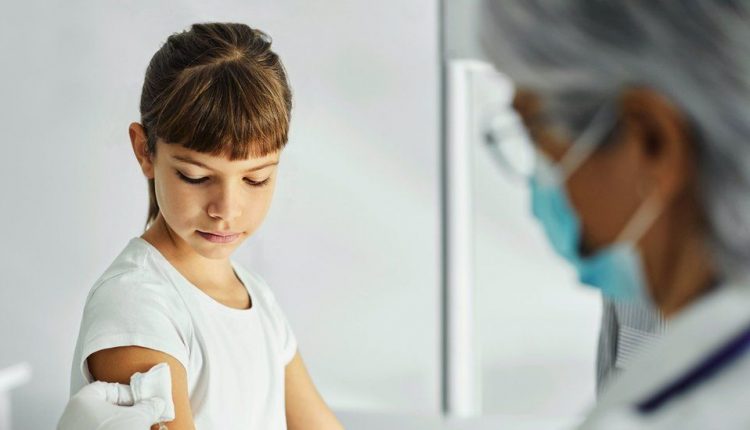 Covid vaccines offered to vulnerable five-to-11-year-olds in England
Young children between the ages of five and 11 considered most at risk of coronavirus will be offered Covid jabs from Monday in England.
The move comes after the UK drugs regulator approved a low-dose version of a Covid vaccine for children last month, deeming it safe and effective.
Eligible children include those with learning disabilities and long-term conditions, such as diabetes.
Cases in young children are rising, but for most, infections are not severe.
Some of those most at risk are more vulnerable to serious illness, and those living with vulnerable adults could pass the infection on.
In December 2021 the government's vaccine advisers, the Joint Committee on Vaccination and Immunisation, recommended around 500,000 young children at highest risk be given the jabs.
The NHS has already delivered more than three million vaccinations to people aged 12 to 17.
This includes children with serious underlying heart and lung conditions and those living with people with weakened immune systems.
A decision on vaccinating all other five-to-11-year-olds has not yet been made.
Deputy lead for the NHS vaccination programme, GP Dr Nikki Kanani, urged parents not to delay coming forward.
She said: "We know vaccines give significant protection against severe illness from Covid – including the Omicron variant – so it is important that our youngest and most at risk get protected."
Most jabs will be given by GP-led teams and in hospital hubs. Officials say parents and guardians should wait to be invited by the NHS.
Young children at risk will be offered two Pfizer vaccines eight weeks apart – at a third of the adult dose.
It is widely used in other countries – more than five million children have been given it in the US alone.
Covid vaccines are already being offered to young children at risk in Wales and Scotland. Public-health experts in Northern Ireland say GPs will be sending parents information about jabs by early February.
The NHS has already delivered more than three million vaccinations to people aged 12 to 17.
Separately, NHS England plans send out flu vaccine reminders to the parents and guardians of eligible children.
In England this includes all two-and-three-year-olds and all pupils from reception age to school leavers, to drive up protection from the virus.