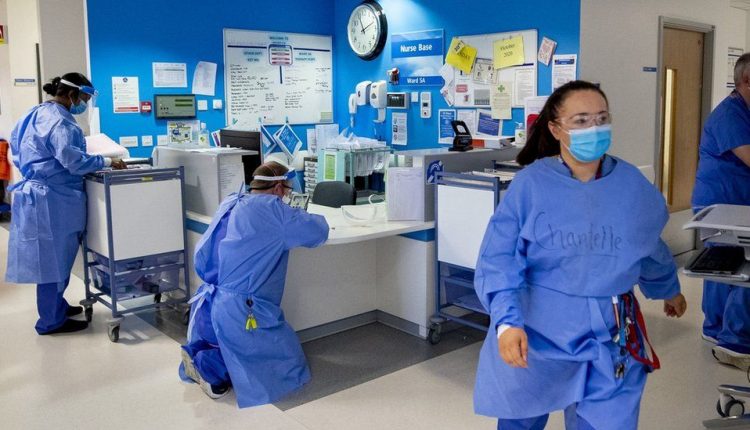 Covid: Ministers to consult over NHS jab requirement for England
Ministers will consult on ending a legal requirement for front-line NHS staff in England to be vaccinated against Covid, Sajid Javid has said.
The health secretary told MPs the policy, which also affects social care staff, was being reviewed in light of the fast-spreading Omicron variant.
The policy, announced last year, meant front-line NHS workers in England would have had to be fully vaccinated by 1 April, needing a first jab by Thursday.
Staff faced redeployment or dismissal.
Mr Javid defended the policy of initially introducing mandatory Covid vaccinations for NHS and social care workers, insisting the government "makes no apology for it".
But he told MPs there was a need to consider the impact on the workforce in NHS and social care settings, "especially at a time where we already have a shortage of workers and near full employment across the economy".
Protests against the policy have been held in cities across the country – and some NHS staff have said they are even considering moving to work in other UK nations where vaccination is not compulsory.
"Especially at a time where we already have a shortage of workers and
near full employment across the economy".
There are no plans in Scotland and Wales to make Covid jabs mandatory for NHS workers or care home staff, while there will be a public consultation on the issue in Northern Ireland.
The unvaccinated NHS workers facing the sack
Unvaccinated staff cross the border for NHS jobs
Call to delay compulsory vaccines for NHS staff
Since September there has been a "net increase of 127,000" people working across the NHS who have "done the right thing and got jabbed", and a net increase of 32,000 people vaccinated in social care, Mr Javid said.
The government has been under pressure from some within the health service to scrap the mandate, arguing that it would lead to a staffing crisis.
The Royal College of Midwives warned the policy could have a "catastrophic impact" on maternity services, while the Royal College of GPs and Royal College of Nursing called for the deadline to be delayed.
But the Department of Health and Social Care has previously insisted the policy was "the right thing to do to protect patients".

Practical and ethical reasons behind decision
Practical and ethical reasons seem to have persuaded ministers to begin a consultation.
On a practical level the NHS can ill-afford an exodus of staff – there are already nearly 100,000 vacancies.
And on an ethical level – as some staff pointed out – was it right to insist on vaccination when the benefits were not overwhelmingly clear cut with the rise of the Omicron variant?
Vaccination against Hepatitis B is a condition of employment for some staff, but that is more than 90% effective against infection, and immunity last for years.
By comparison, immunity against Covid infection after two doses has largely gone after 20 weeks.
A booster can initially increase protection to around 70%, but by 10 weeks that has started to wane significantly too.
This should not be confused with the more durable protection it provides individuals against serious illness.
But if staffing levels dropped further because of the mandate, there was an argument the risk to patient safety of the policy could have actually outweighed the benefits.