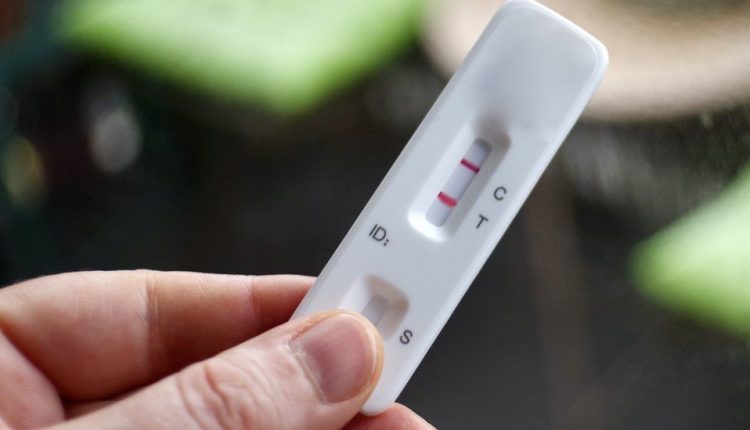 Covid-19: How many people have been infected more than once?
Reinfections – or people who've had more than one positive test for coronavirus – have been added to the official Covid-19 dashboard for the first time, going back to the start of the pandemic.
Until now, only first-time infections were recorded. But with variants like Omicron continuing to emerge and around a quarter of the population already having had a confirmed infection, reinfections are only going to become more common.
Scientists say that including this level of detail in the daily figures is an important way of tracking the evolution of the epidemic across the UK.
The updated figures now include more than half a million reinfections from the start of the pandemic in England, as well as 173,000 unreported cases which weren't previously counted.
Reinfection data for Northern Ireland has also been updated, with Scotland and Wales adding their data in the coming days.
"Reducing this time limit would increase the risk of primary infections that shed virus for a long time being recorded as reinfections."
The data shows the number of overall reinfections is small. They only make up 4% of the 14.8 million positive tests recorded so far – but since the start of the Omicron wave in December, they've been rising sharply.
From representing around one in 100 daily cases up to November, reinfections now make up one in 10.
What are the latest daily case numbers for the UK?
How many people have had boosters so far?
Is the pandemic entering its endgame?
Those reinfections are likely to be people infected by the Alpha or Delta variants and then infected again by the more contagious Omicron.
Health officials have used a strict but universally recommended definition of reinfection – at least 90 days between two positive tests – which captures the majority of reinfections, and rules out lingering first infections being detected weeks later by sensitive PCR tests.
Everyone has heard of someone who has been reinfected in less than 90 days, says Paul Hunter, professor of health protection from University of East Anglia, "but proving these to be true reinfections without sequencing every positive would be difficult".
He adds: "Reducing this time limit would increase the risk of primary infections that shed virus for a long time being recorded as reinfections."
In any case, first infections are still the most relevant, because subsequent ones are usually much less severe.
Two positive tests within a month or two is a possible scenario, and has been common among school-age children in recent weeks, according to a report from the UK Health Security Agency, which has tracked all infections since March 2020.
But it's not clear whether they were infected with Delta and then Omicron, or twice with Omicron.
Even among unvaccinated groups – who are thought to be twice as likely to be infected as vaccinated people – two Omicron infections in close succession are thought to be rare, but not impossible.
Others say the data on people entering hospital with Covid is more important to focus on, given the fact that vaccine protection against infection wanes quickly.
Cambridge University statistician Prof Sir David Spiegelhalter says the updated numbers can only tell us so much, when there are many who don't develop symptoms, get tested or report the results.
A survey, from the Office for National Statistics, which randomly tests people for Covid suggests daily case numbers are only around half of the true number actually being infected.
Based on its numbers, the ONS says the risk of infection from Omicron is 16 times greater than for Delta.
Although vaccines are good at protecting against serious illness, the protection they offer against infection from Omicron tails off quickly and, after 20 weeks, is likely to be very low.
That means infections will continue to rise, and at some point in the future, all new cases could be reinfections.
Later today, the dashboard will update the number of people who've died within 28 days of a positive Covid test, based on the updated case numbers.
Because second infections are usually milder than initial ones, any increase in the 155,000 deaths which have occurred during the pandemic so far, is likely to be very small.