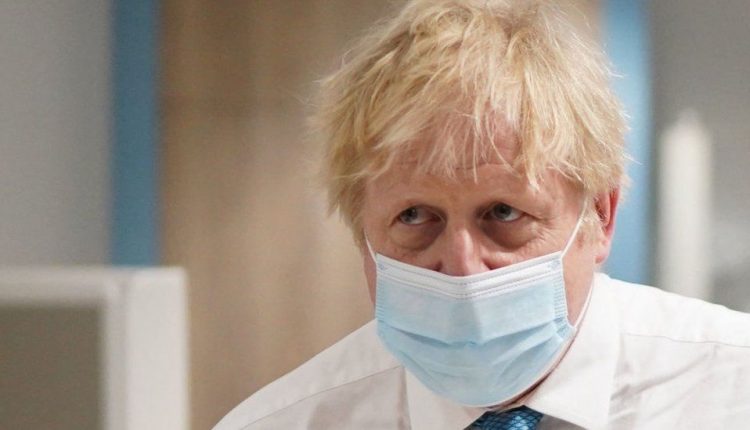 Covid: Tough new targets will tackle NHS backlog, Boris Johnson says
New "tough targets" will be set to tackle record NHS waiting lists in England, Boris Johnson has said.
The PM promised action after plans to tackle the backlog of people waiting for treatment were delayed.
It had been expected to be published on Monday but Mr Johnson said more details would be set out later this week.
Earlier, Health Secretary Sajid Javid denied reports the Treasury had blocked the announcement, blaming the Omicron wave for the delay.
He told BBC Breakfast the plans were due to be released in early December but the emergence of the more transmissible coronavirus variant meant the focus shifted to the booster programme.
'I went to Sri Lanka for my operation'
'I had to give up work over operation wait'
Is this NHS crisis really worse than ones before?
"When we need a plan we haven't got one from the government and many people on waiting lists will be really dismayed."
During a visit to a hospital in Kent, Mr Johnson said: "We're now working with the NHS to set some tough targets so that we are able to deliver for patients and also for the taxpayer."
He pointed out more money is being invested and extra staff recruited.
The prime minister denied the Treasury had been concerned the targets were not tough enough, saying the department was "working together in harmony" with Downing Street.
Pressed on whether he had doubts about the chancellor's loyalty to his leadership, Mr Johnson said: "Absolutely not."

'They were allowing me to die because of Covid'
Louise McAllan, from Essex, has stage four lung and bone cancer and had an operation and chemotherapy cancelled because of the pandemic.
She was diagnosed in February 2020 but said she did not receive any treatment for eight months.
"It was so devastating I was literally lost for words," she told BBC Radio 4's World at One programme.
"It was just so unbelievable that they were allowing me to die because of Covid."
Louise was previously diagnosed with breast cancer in 2013 and said her treatment then was much quicker, with tests taking place within two weeks and chemotherapy starting shortly after.
"It does make me angry… they've put people's lives in jeopardy," she said.
"I'm not saying Covid isn't serious because it is. But cancer, heart disease, they don't go away – they get worse."

The waiting list for hospital treatment in England hit a record six million in November – a rise of nearly 50% since the pandemic started.
More than 300,000 patients have been waiting more than a year for treatment after the suspension of routine surgery during certain parts of the pandemic, adding to pressures which were already clear before it began.
Mr Johnson warned that waiting lists would increase before they started to fall. Ministers are encouraging those who stayed away from the NHS during the pandemic to come forward for treatment.
If you can't see the lookup, click here
The prime minister also appeared to confirm the 28-day target for a cancer diagnosis for the vast majority of people – three in four – and that by March next year no-one would wait longer than two months to find out if they have cancer.
That target was originally due to have come in last year, but had been delayed because of the pandemic.

With Covid in retreat – at least in terms of serious illness and pressure on the NHS – the challenge facing the government is how to get the core services back on track.
Whether it is cancer or hospital treatments, the pandemic has had a huge impact. Waiting times have got worse across the board.
For hospital treatments ministers need to find a way to increase capacity – the NHS is still doing fewer treatments than it was before the pandemic began.
Tough new targets on their own will not be enough without the staff needed to see patients.
Much the same is true for cancer – but it is further complicated by the missing cases. The number of diagnoses are down by 34,000 since the pandemic started.
Getting those people to come forward for checks and ensuring they get them quickly when they do is essential.


Labour leader Sir Keir Starmer said Downing Street was "embroiled" in allegations about lockdown parties and "the price is the government not getting on with the job".
"When we need a plan we haven't got one from the government and many people on waiting lists will be really dismayed," he said.
Matthew Taylor, chief executive of the NHS Confederation, which represents the healthcare system, told BBC Radio 4's Today programme the delay was "frustrating" as the plan had already been agreed with NHS leaders who "want to get on with the work".
However, with an unknown number of people not included in waiting list figures because they did not come forward for treatment during the pandemic, he warned that "unrealistic" targets could end up "skewing clinical priorities".
Saffron Cordery, deputy chief executive of NHS Providers, which represents health trusts, said the parts of the plan being held up included measures to free up clinician time, support for trusts working together, use of the independent sector and how funding would be allocated.
Earlier, the government announced a new online platform called My Planned Care, which will allow people needing non-urgent surgery to get information about waiting times.
The platform, which will be launched later this month, will also offer advice on prevention services, such as how to stop smoking and exercise plans, to make sure people are fit for surgery.