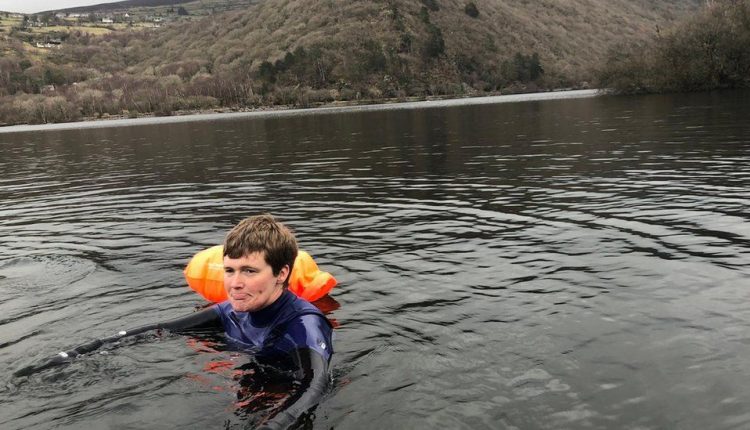 Long Covid: Brain fog causes work absence but swimming helps
Sian Griffiths is desperate to get back to work but feels "ashamed" the "fog of long Covid" has kept her off for the past 18 months.
"I can't drive far, I forget to close doors, I burn food and when I'm reading my brain turns some words into others. I lose concentration," she said.
Sian is one of a record 1.3 million people in the UK living with long Covid – more than 2% of the population.
The only thing that lifts the cloud of long Covid for her is wild swimming.
"It feels like the fog disappears, I can think a bit more clearly," said Sian.
"It lasts for about an hour and a half after I come out and the hope is the more I do it, the effect will last a bit longer."
What are the symptoms of long Covid?
Middle-aged women 'worst affected by long Covid'
'I have to choose between walking and talking'
Long Covid is not fully understood, and there is no internationally-agreed definition – so measures of how common it is or what symptoms are involved vary.
Sian, who caught Covid in May 2020 while working as an NHS physiotherapist, said she was advised by a specialist that swimming would help her recovery.
"We are still learning about long Covid and this review will help us improve services further. We will continue to monitor the support required and adapt accordingly as we learn more to ensure services are available to all those who need support."
But the 43-year-old felt the heat after being in a leisure centre would make her "likely to faint" so she has taken up swimming three times in a week in open water, usually off the north Wales coast near her home on Anglesey.
"I go in a wetsuit because that helps the compression of the blood and oxygen to the brain," she said, after a lake swim in the dramatic surroundings of Llyn Padarn in Snowdonia.
"The pressure of the water helps with blood and oxygen to the brain too.
"I feel ashamed as what do people think of me because I can go in water but I can't go to work – that just doesn't sit right with me although I have been told to do it."
Official data suggests about 1.3 million people in the UK have "long Covid" – symptoms lasting more than four weeks – with symptoms like extreme tiredness, shortness of breath, heart palpitations, joint pain or changes to taste and smell.

It affects more than 60,000 people in Wales and Sian, whose memory and concentration problems are another main long Covid symptom, is one of 26,000 in Wales who are still having symptoms more than a year after getting coronavirus.
"I can't lead a normal life," she said.
"I was fine before, had a full-time job and was biking up mountains and riding 40 miles (64km) on the road.
"Now I've got to have my mum and dad basically trying to remind me to do things all of the time. It's heart breaking."
Sian said her recovery had been helped after paying to see a consultant in Stoke-on-Trent – a two-and-a-half-hour drive from her home in Llandegfan, near Menai Bridge – instead of waiting 12 months on the Welsh NHS.
She was diagnosed with Postural tachycardia syndrome (PoTS), a heart condition where symptoms can include dizziness and fainting, and thinks Wales, like England, should also have specialist long Covid treatment centres in hospitals.
She feels a "consultant-led, joined-up and under one roof" solution should be considered in Wales, because "you need to know if something happening with your organs" before people start rehab.
But the Welsh government thinks local support is better, with rehabilitation run by GPs, nurses and physiotherapists and their £5m Adferiad programme is working.
Sian was so frustrated she contacted her local politician who is also the health spokesperson for Plaid Cymru in the Welsh Parliament.
"She had to travel long distances, had to pay significant amounts of money and put huge pressure on her on her family in order to get a diagnosis," said Rhun ap Iorwerth, Member of the Senedd (MS) for Ynys Mon.
Why are some people not recovering from long Covid?
'I feel like my body has let me down'
Hidden lung damage spotted on long Covid scans
"It's not acceptable that should happen to anybody, it's even worse when it happens to somebody who's a health and care worker who was infected in the line of duty."
Mr ap Iorwerth said "it's not right" for an Welsh NHS employee to have to go private and pay for treatment "so she can aim to get back to work."
"We should be looking after those health workers were infected," he added.
"As we should be looking after everybody who's suffering the consequences of long Covid feeling that they're not being taken seriously still. There are many, many people in a similar situation."
The Welsh government said health professionals were "still learning" about long Covid, but added almost 90% of users of its rehab programme would recommend it to other sufferers, according to a review of 600 patients
"In Wales we are committed to ensuring every person suffering from long Covid receives support and care tailored to their particular needs and symptoms rather than a one-size-fits-all approach, as close to home as possible," said Health Minister Eluned Morgan.
"We know it affects everyone differently. Not everyone suffering from long Covid will need to see a specialist and this model will stop people waiting a long time for treatment.
"We are still learning about long Covid and this review will help us improve services further. We will continue to monitor the support required and adapt accordingly as we learn more to ensure services are available to all those who need support."