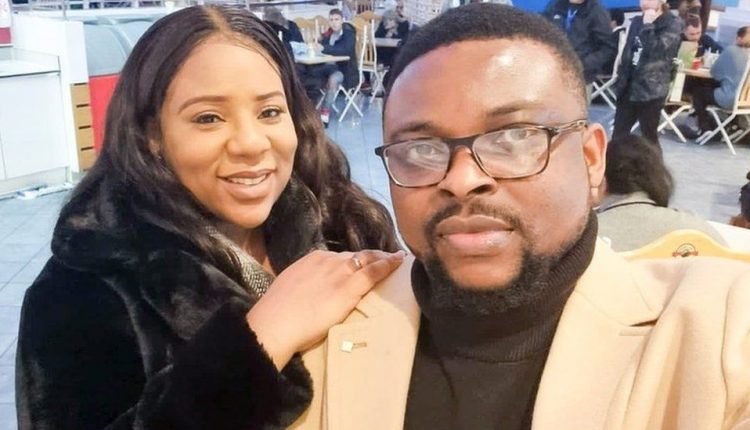 Miscarriage: 'I was in pain and they did not listen'
Research shows black women are at a 40% higher risk of pregnancy loss than white women.
It is an urgent problem, which the Royal College of Obstetricians and Gynaecologists says needs greater attention, with many complex reasons driving this higher risk.
These include a lack of quality research involving all ethnicities – but RCOG head Dr Edward Morris says implicit racial bias is also affecting some women's experience of care.
Isabel Gomes Obasi and her husband, Paulson, from Coventry, are expecting a baby boy in March.
They are excited but extremely anxious. Almost a year ago, their baby boy Andre died four months into Isabel's pregnancy.
She also had stillborn twins, in 2012.
"We have also not worked out yet whether, for example, black and Asian women respond differently to the hormone progesterone."
Giving birth to Andre was extremely traumatic, Isabel says, but how she was treated when in severe pain and bleeding, in the days before her loss, made the experience worse.
"We knew something was wrong, so we went into hospital and waited five hours to be seen by a doctor," she says. "I remember being laughed at by one of the nurses, who said, 'Just go home. Why do you keep coming in?'"
Isabel was checked over and told the baby was fine but says her intuition and pain were belittled and ignored.
"It got to the point where I started questioning myself," she says. "'Am I going crazy? Am I making these symptoms up?'"
Within 48 hours of going home, Isabel began bleeding heavily.
There is little doctors can do at this relatively early stage of pregnancy to save a baby's life. But the feeling of not being listened to has stayed with Isabel ever since.
"I just shut down," she says. "The experience made me anxious and depressive, if not suicidal."
Asked why she was not listened to, her shaky voice becomes steely.
"The colour of my skin," she says – the attitude of some staff was: "'You have black skin – you are not from here – you can wait.'"
About one in five pregnancies ends in miscarriage. About half of all losses are thought to involve severe chromosomal issues affecting a baby's genetic code, meaning the baby would never have survived.
Conditions including high blood pressure, some infections and gynaecological conditions such as endometriosis can contribute to higher risks.
But other potential causes remain unclear.
And while all ethnicities can have difficult experiences of pregnancy and care, black women are four times more likely to die in childbirth than white women and face higher rates of stillbirth and miscarriage.
Miscarriage Association trustee Natasha Necati, from Essex, who has had eight miscarriages, says there was no "blatant racism" in her care – but, like Isabel, there were times she was not listened to.
"I haven't always felt I have been taken seriously," she says. "I have, in some cases, complained about serious amounts of pain during miscarriages and it was kind of pooh-poohed."
One of Natasha's key concerns is little research is funded into why black women face higher risks.
"Surely if it was deemed important, tens of thousands of pounds would be being spent on getting answers," she says. "It makes you question whether it is seen as important – and if it is not important, why not?"
Dr Morris says it is "unacceptable" women belonging to ethnic minorities face worse outcomes than white women – especially in maternity care.
"Implicit racial bias from medical staff can hinder consultations and negatively influence treatment options," he says.
And this can stop some women engaging with healthcare.
Dr Christine Ekechi, who co-leads an RCOG taskforce launched in 2020 to tackle these inequalities, says more needs to be done to include black women's experiences in conversations and research around miscarriage and raise awareness among ethnic minorities.
But she warns against reducing the reasons for the higher rates of miscarriage to ethnicity alone.
"The thing that needs greater consideration is the understanding that every woman irrespective of their ethnicity, or race, is of value," Dr Ekechi says. "I really push against the homogenisation or the grouping of all black women as one, that their thoughts and their beliefs and experiences are all the same – they are not.
"And so really where the problem occurs is when we don't see black women as equal to any other women.
"We want all women to feel heard and valued and treated with kindness – but in understanding better the causes of miscarriage in all women, we may get closer in understanding why we see this stark difference for black women."
Leading researcher Prof Siobhan Quenby, who runs the recurrent-miscarriage clinic at University Hospital Coventry, says there is a lot to investigate – black and Asian women have higher rates of gestational diabetes, for example, and may have higher blood sugar levels in early pregnancy.
Studies also show the balance of bacteria in the vagina may differ between ethnicities.
"We have also not worked out yet whether, for example, black and Asian women respond differently to the hormone progesterone," Prof Quenby says.