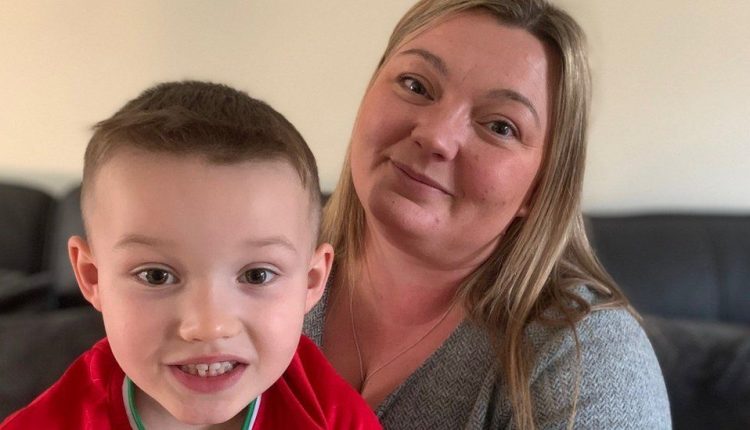 Heart disease: Women at higher risk of misdiagnosis
A woman has resorted to teaching her five-year-old son to use FaceTime over fears his grandmother will have a fourth heart attack.
Mandy Swift, 56, has had three heart attacks and now her daughter Vicki is teaching son Gethin to raise the alarm if she is ill.
They want to improve women's awareness of the symptoms of a heart attack.
The British Heart Foundation Cymru said women were not seen as being at risk and were often misdiagnosed.
The Welsh government said it was working to improve care.
Mandy was living abroad when she had her first two heart attacks and had a third after moving to Denbighshire to be close to her family.
Vicki, from Rhyl, fears her mother could have a heart attack while she is looking after Gethin.
What can cause a cardiac arrest?
How to perform basic CPR on an adult
Gabby Logan's heart screen call to honour brother
"Wales already has a quality statement for heart conditions and we will continue to work with partners and health boards to improve the care of people with heart conditions."
"Every day on my way to work I give my mum a ring and if she doesn't answer I panic," said Vicki, whose father suffered a fatal heart attack aged 42.
"When I look at my mum and her quality of life – she struggles to go out. As much as I love her, I don't want that for me."
Now, aged 37, she has joined a gym to improve her own prospects.
"When I was pregnant I had gestational diabetes," she said, explaining that increases her chances of developing diabetes, and in turn heart problems.
"I got myself a personal trainer and I've lost three stone up to now, and am no longer in that pre-diabetic range."
She wants to improve women's awareness of the symptoms of a heart attack, as well as their increased risks.
Mandy said: "For the first two, I had pains in my arm and I threw up a lot. Then I slept for two days.
"I always believed that a heart attack was a pain in your chest, but I've had three and I've never experienced that.
"I've got heart failure now. So with every heart attack that I have it makes my heart weaker and I know that the next one could kill me. I've been very lucky so far.
"I've gone from being a healthy, active person to being someone who has to take 17 different medications a day to make sure I'm alive the next day."
How likely are women to have a heart attack?
It comes as a British Heart Foundation Cymru report claimed unconscious bias and systemic inequalities in healthcare were leaving women at a disadvantage at every stage when it comes to heart disease.
The charity said women were more likely to be misdiagnosed, less likely to receive optimal care, and struggle to access cardiac rehabilitation.
About 1,700 women are admitted to hospital in Wales every year with a heart attack, but BHF Cymru research suggested few were confident to recognise the signs.
The charity said heart and circulatory diseases kill 4,900 men and 4,400 women in Wales each year, but it is often seen as mainly affecting men.
Consultant cardiologist Lena Izzat said unless action was taken Wales risks "an epidemic of heart failure and heart disease".
"Women often wait longer before calling 999 after first experiencing heart attack symptoms and that delay can dramatically reduce the chance of survival," she said.
She said diabetes, smoking and high blood pressure bring higher risks of heart attacks for women than men.
In addition polycystic ovary syndrome, pre-term delivery, hypertension and diabetes during pregnancy and premature menopause are risk factors for developing heart problems, yet are rarely acted upon.
"We seldom hear people asking about these other issues, so simply by making this a routine type of questioning – whether they're visiting their GPs, or even when they're coming into the hospital – might jog a healthcare professional's memory that they need to check their cholesterol, or blood pressure," she added.
Gemma Roberts, policy and public affairs manager for BHF Cymru, said: "We fear that the assumption that women are not at risk of heart disease is costing women their lives. This has got to stop.
"We are calling on Welsh government to commit to a women's health quality statement which adopts a lifetime view, moving beyond the idea of women's health as synonymous with just reproductive health."
A Welsh government spokesperson said: "We are producing a women's health quality statement to ensure services consider the specific needs of women and ensure timely, equitable access to diagnosis, treatment and rehabilitation services in all aspects of healthcare in Wales.
"Wales already has a quality statement for heart conditions and we will continue to work with partners and health boards to improve the care of people with heart conditions."