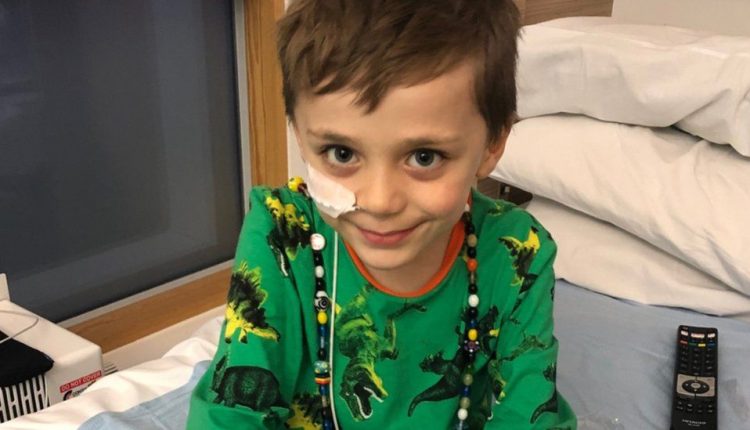 'My child is in pain – but I'm helpless'
Thomas Hebbron is one of the forgotten victims of the pandemic.
He was diagnosed with leukaemia in February 2019 – a year before Covid hit the UK.
The eight-year-old, from Leeds, has been treated with chemotherapy which has continued throughout the pandemic, but his health has suffered in other ways – and his mother believes the unrelenting focus on the virus is to blame.
Pre-pandemic he was seen in person by doctors every two weeks. But that changed to monthly video calls, and liver and urinary problems went undetected.
His treatment also affected his fine motor skills and has weakened his legs, but he has not seen an occupational therapist since before the pandemic.
"I want to take this pain away from him," says his mother, Gemma. "I don't want to sit and watch him in this pain, but I can't do anything. I just feel completely helpless."
"It wasn't nice to see, she was getting angry, crying sometimes. She isolated herself as well, which was hard because we've always been quite close – it's hard when you just
want to help her as much as you can."
'Plight of children overlooked'
Thomas's story is not unique. An analysis by the Nuffield Trust and Health Foundation, shared exclusively with the BBC, has for the first time laid bare how access to core health services in England has been squeezed, threatening to leave behind a generation of young people.
The review has looked at both physical and mental health services and come to the same conclusion – support has been badly disrupted and the plight of children overlooked.
For physical health services it found:
The proportion of under-16s with suspected cancer waiting more than two weeks to see a cancer doctor has nearly trebled to 16% since the pandemic started
The waiting list for planned treatments has risen by nearly a quarter in the past seven months alone
In a sign the physical health of children is deteriorating, urgent referrals to hospital by GPs has jumped by nearly half during the pandemic
Another child who has been affected is Keris Keen, from Nottingham. The 13-year-old was born with hip dysplasia and as a result her left leg is longer than her right.
Two years ago she had plates fitted to try to slow down the growth of her left leg.
But then complications developed and her leg became infected. She needed another operation and was put on a waiting list in August.
It was first cancelled in October and then again in November – both times she had to isolate for two days, before it was cancelled at short notice. It finally went ahead in January.
Her mother, Keri, said: "She was in pain, she kept getting infections in her knee, sometimes she couldn't walk.
"It wasn't nice to see, she was getting angry, crying sometimes. She isolated herself as well, which was hard because we've always been quite close – it's hard when you just want to help her as much as you can."
How mental health has suffered
Demand for mental health services has also risen, with researchers saying lockdowns and the disruption caused to education and social activities have taken a huge toll.
The analysis highlighted:
An 81% jump in referrals for child mental health services between April and September 2021, with growing numbers facing long waits
More than 15,000 crisis referrals during the same period, a 59% jump on the same period in 2019
A quadrupling in the number of under-19s waiting for treatment for eating disorders since the start of the pandemic, with more than 2,000 on the waiting list
Fifteen-year-old Sam (not his real name) is one of those who has struggled. He had anxiety before the pandemic, but became very isolated during the first lockdown and stopped eating, becoming – in the words of his family – painfully thin.
They have struggled to get him help and he was recently admitted to hospital for two weeks.
His mother said: "We're terrified and we don't know what to do as we cannot keep him safe. He needs to be in a specialist children's unit, but there are no beds.
"We cannot watch him 24 hours a day and I fear he will end up dying."
The Nuffield Trust and Health Foundation have been joined by the Royal College of Paediatrics and Child Health (RCPCH) in calling for a dedicated plan for children to help them recover from the pandemic.
Dr Camilla Kingdon, RCPCH president, said the figures "do not take into account the many other 'hidden' waiting lists of children waiting for community therapies and diagnostic assessments, especially for autism".
She added that children are "struggling" and, despite services being stretched, no-one should be deterred from speaking to a health professional.
Jessica Morris, from the Nuffield Trust, says: "In many ways, the wider effects of the pandemic and nationwide lockdowns on children and young people have been greater than the Covid infection itself.
"Despite being much less at risk of hospitalisation from the virus, the youngest members of our society have not escaped unscathed and we can see a heavy toll on their mental wellbeing and access to health services."
In response to Thomas's case, Leeds Teaching Hospitals Trust told the BBC it is committed to achieving timely and safe care for all patients.
The Department of Health says it is investing billions of pounds into recovering the backlog of care built up during the pandemic.
It said it was investing in staff and services with the creation of school-based mental health services.
A government spokesman said improving health outcomes for children was "fundamental" to their plans to recover from the pandemic.
The report looked at data for England only, but the other UK nations have said child health also continues to be a priority and they are investing in mental and physical health services too.