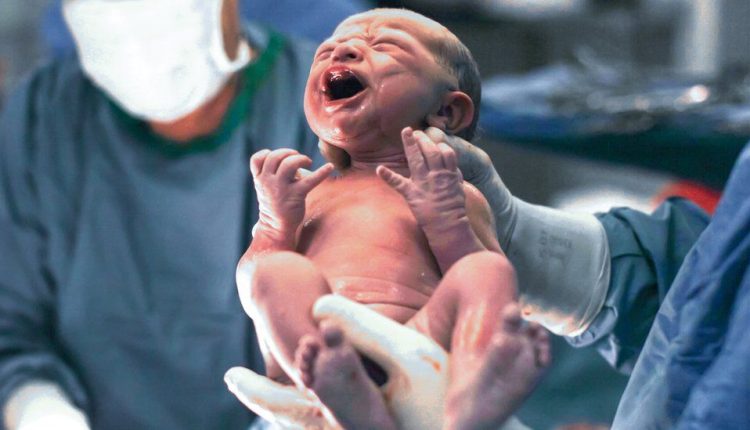 NHS England drops limit on offering Caesarean births
The NHS in England will no longer limit the amount of Caesarean sections it performs, under plans to improve care for mothers and babies.
Maternity units were previously encouraged to promote natural births and keep the Caesarean rate to about 20%.
It comes after one NHS trust was criticised for poor maternity care.
Shrewsbury and Telford Hospital NHS Trust is currently being investigated for nearly 2,000 maternity incidents.
In a letter seen by BBC News, maternity staff have been told to treat cases on an individual basis and follow National Institute for Health and Care Excellence (NICE) guidance allowing women to opt for a planned Caesarean even if it is not for medical reasons.
"Women and people giving birth should feel supported and their choices should be respected."
What is a Caesarean birth?
Caesarean sections are when a baby is delivered through a surgical cut into the abdomen and womb.
They fall into three categories:
elective – at the mother's request
planned – usually for medical reasons, such as the baby is either in the wrong position or very large
emergency – usually because of complications during labour
More than one out of every four babies born in England is now delivered by either elective or emergency Caesarean.

NHS England chief midwife Jacqueline Dunkley-Bent and clinical director for women's health Dr Matthew Joly said in the letter they were "concerned" by trusts focusing on hitting targets.
"We therefore ask all maternity services to stop using total Caesarean section rates as a means of performance management, as we are concerned by the potential for services to pursue targets that may be clinically inappropriate and unsafe in individual cases," the letter says.
Hospitals had previously been following advice from the Royal College of Obstetricians and Gynaecologists, given in 2012.
RCOG vice-president Dr Jo Mountfield welcomed the clarification to end target-driven clinical decision making for Caesarean births, saying: "These targets carry certain benefits and risks, which should be discussed with women as they choose how they wish to give birth.
"Women and people giving birth should feel supported and their choices should be respected."
Last year, after the Health and Social Care Committee found 1,000 more babies a year would survive if England had safer maternity services, the government announced £2m was being put into research to spot early signs of distress.
Maternity units were improving but newborn deaths remained too high, the committee found.