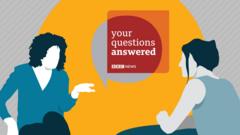 How will the vulnerable be protected from Covid? And other questions
By BBC News
27
The government has announced the end of all legal Covid restrictions in England, and Scotland has taken similar steps.
Here are some of your questions on the changes:
Questions and answers
Testing and vaccines
Your questions
Skip Testing and vaccines
How is the government going to protect vulnerable children who remain unvaccinated? My son has cystic fibrosis and will now be forced to mix – he has not had any access to vaccination.

Nikki Thorbinson

Michelle Roberts

Health Editor, BBC News Online

Because your son is in a clinical risk group – and as long as he is over five – he should soon be offered two doses of the Pfizer vaccine. You should be contacted by your GP or specialist team to arrange this.

With regard to the dangers of mixing, the UK has also recommended that Covid vaccines are offered to all children aged 5 to 11, not just those at high clinical risk. This is likely to start in England in April. Children are generally at much lower risk of becoming seriously ill from a Covid infection, although some do still get sick and need hospital care. Over-12s can already be vaccinated, and it's hoped that extending the rollout to younger age groups will help protect even more children from the risk of catching and spreading Covid.

Schools are expected to work with and support families who have concerns about a pupil returning to the classroom. It is compulsory for school-age children to attend, even if they were previously shielding – the only exception is a small number of children whose clinician or GP has advised them not to attend. If you have concerns about this, you should talk to your doctor.

My 82-year-old mother is in a care home. Will I still need to fo a Covid test before visiting her? If so, will I be entitled to a free test or will I have to pay?

Bob Browning

Michelle Roberts

Health Editor, BBC News Online

If you live in England and are not in a vulnerable group yourself, it is unlikely that you will be entitled to a free test after 1 April. From that point, lateral flow tests should be available to buy from pharmacies and other retailers.

The government says it will continue to provide free tests to the oldest age groups and those most vulnerable to Covid. We don't have the details of how this will work yet, but your mother and her care workers should still be eligible for free tests.

Care homes are responsible for their own visiting policies, but at the moment across the UK, all visitors are expected to test for Covid before arrival.

How will we detect and identify new variants quickly in the general population when symptomatic testing will only continue for the vulnerable?

David Lloyd

Michelle Roberts

Health Editor, BBC News Online

The chief scientific adviser Patrick Vallance has warned that further variants of Covid are expected – and that they could be more severe than previous ones.

Therefore, although most of the free testing system is being dismantled in England, the government insists that the UK will continue to do detailed checks and surveillance to look for resurgences of Covid and any concerning new variants which may emerge.

For example, some people in the community will still be asked to do regular tests for Covid as part of the Office for National Statistics' Infection Survey.

Positive test results collected this way can be analysed to identify the type of Covid people have. Throughout the pandemic, scientists have learned a great deal about how to track the virus, and the government says it will be possible to scale up such operations again in the future if necessary.

Trials are already underway to test updated vaccines that could be a better match for the virus as it continues to change.

The UK government also says it will also help support other countries in developing their own surveillance capabilities, because a new variant can emerge anywhere.

Is it still compulsory to wear face masks when entering GP practices?

Trevor Fish

Michelle Roberts

Health Editor, BBC News Online

NHS England says patients and staff should continue to wear face masks in GP practices even though they are no longer mandatory in public places.

Face coverings also remain compulsory in healthcare settings in Scotland and Wales, and it is "strongly advised" that people wear them in Northern Ireland.

Will patients still have to test before going into hospital for an operation?

Sue Halliwell

Michelle Roberts

Health Editor, BBC News Online

Your doctor will be able to advise about what tests you will need before you have an operation.

You may need to have a Covid test, and the government has said free testing will still be available in certain settings, such as hospitals. Infection control measures will continue to help keep people safe and limit the spread of the virus.
End of Testing and vaccines