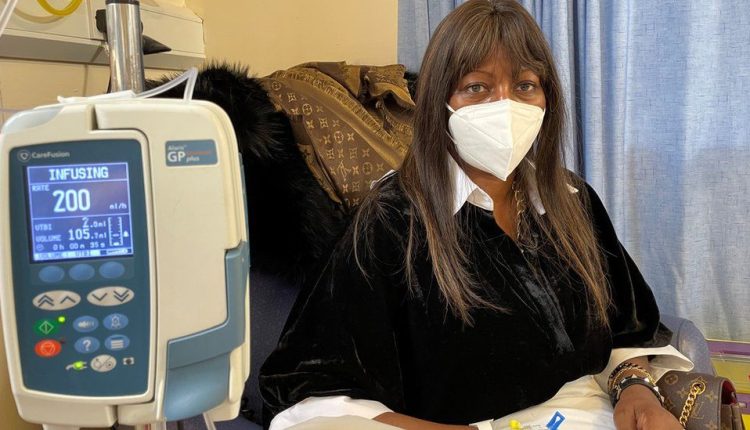 New sickle cell treatment given to first patients in England
Sickle cell patients have begun receiving the first new treatment for the blood disorder in over 20 years.
The inherited condition can cause severe pain and organ failure, often requiring hospital admissions.
Crizanlizumab is given as a monthly infusion and is thought to cut visits to A&E by 40%.
Loury Mooruth, 62, received the treatment at Birmingham City Hospital, having suffered repeated periods of intense pain for decades.
These are called sickle cell crises and are common in people with the condition.
"To have a crisis is pain beyond what you could ever experience," Loury says.
"They give you a scale of one to 10 – but it is way beyond that."
Sickle cell disease causes red blood cells to distort and become sticky, blocking vessels and restricting oxygen supply, which triggers excruciating pain.
Crizanlizumab, a monoclonal antibody, binds to a protein on blood cells, preventing them from clumping.
Sickle cell mostly affects black people.
During a crisis, patients often need powerful opioid painkillers but Loury, like many others, has faced suspicion when at A&E.
"You know the protocol when you go in, which needles and so on. They think straight away you are a drug addict – they don't believe you," she says.
She has refused to go to hospital during a crisis for the past two years because of her negative experiences.
A report from MPs last year found "serious failings" in sickle cell care with some evidence of discrimination against patients.
Dr Shivan Pancham, a consultant haematologist at Birmingham City Hospital, told the BBC: "Our patients often find the experience in emergency departments challenging with a lack of understanding of the severity of pain.
"It is hoped with these new therapies if we reduce the likelihood of attending emergency departments, ultimately this will be much better for the patients."
Ten specialist treatment centres have been set up across England which doctors hope will improve outcomes for sickle cell patients.
Each vial of the drug costs £1,000 but NHS England has negotiated a confidential discount and hopes to treat up to 5,000 patients over the next three years.
Loury is optimistic about the future, saying: "This is a bright new dawn."
"Hopefully this will take the crises and put them to one side, and I will see my haematologist a lot less."
Dr Bola Owolabi, NHS director of health inequalities, who also works as a GP in the Midlands, said: "It's fantastic that our first NHS patients have been given this ground-breaking and historic new treatment for sickle cell disease – the first in over two decades.
"This revolutionary treatment will allow patients to have a better quality of life, reduce trips to A&E by almost half and ultimately help to save lives."
Kye Gbagbo, chair of the Sickle Cell Society, said: "We are delighted to see the first sickle cell patients are now getting access to this life-changing new treatment.
"We encourage others that are eligible to do similar. Sickle cell crises cause extreme pain and are a huge disruption to daily life.
"We hope that this new treatment will bring a new lease of life to many living with sickle cell."
What is sickle cell disease?
It is inherited from both parents, who pass on a particular gene
It is possible to carry the gene without having the disease
Nearly 300 babies are born with it each year in the UK
A simple blood test will show whether someone has it
Children with sickle cell are at greater risk of stroke
Other symptoms can include serious infections, anaemia and tiredness
Source: Sickle Cell Society / NHS UK