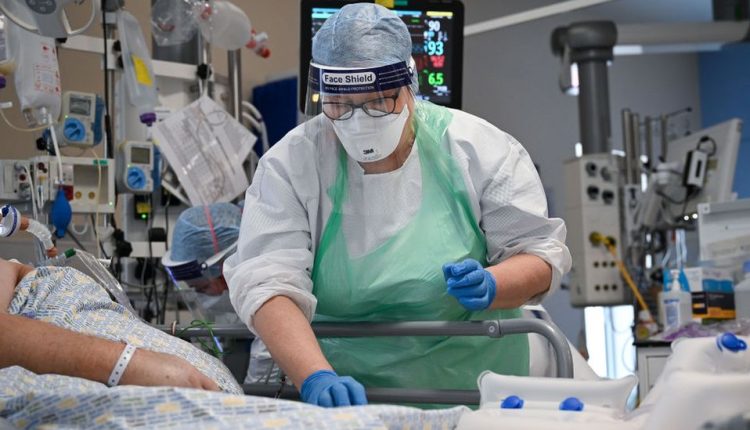 Audit Scotland: NHS staffing could threaten post-Covid recovery
Scotland's NHS faces major staff recruitment and retention challenges as it emerges from the Covid pandemic, according to a spending watchdog.
Audit Scotland said the health service remains on an emergency footing as patient waiting lists soar.
The report also warns the health service will require reform if is to be financially sustainable.
Health Secretary Humza Yousaf said he wants to build on the collaboration and innovation shown during the crisis.
But the BMA said the report highlights the danger that recovery could be undermined by a lack of workforce planning.
And opposition MSPs accused the government of mismanaging the NHS long before the country's first confirmed Covid case in March 2020.
Scotland's high-dependency health service
NHS waiting-list backlog will take years to clear
More than half a million on Scottish hospital waiting lists
Lack of planning blamed for Scotland's NHS 'crisis'
"The failure of Humza Yousaf's so-called NHS recovery plan is plain for all to see as 1 in 8 Scots languish on waiting lists, staff are exhausted and the NHS remains on emergency footing."
Stephen Boyle, Auditor General for Scotland, said recruiting the right levels of NHS staff has been a concern for many years.
He told BBC Scotland: "That feels even more challenging in the current context of both recovering from the pandemic and tackling the backlog.
"In our report we note that some of the vacancy rates are at the highest level for four years now, across nursing and midwifery and allied health professionals."
Mr Boyle said it remained to be seen if the government's recovery strategy could be realised, and he emphasised the importance of reliable data to inform workforce planning.
"One of the key conclusions in our report is that the NHS needs to reform to become more financially sustainable, rather than reinventing back to where we were before the pandemic on an already unsustainable model, " he said.
He suggested a sustainable long-term model would see a shift away from hospital care to a preventative primary care-based setting, where people are treated closer to home.
The report, NHS in Scotland 2021, urges the Scottish government and NHS boards to work together with partners in the social care sector to develop a solution for reducing delayed discharges from hospital, so-called bed-blocking.
It also calls for the publication of data on performance to ensure transparency about how NHS boards are managing their waiting lists.
On Tuesday it emerged the number of people on a hospital waiting list in Scotland has reached 538,000.
About one in 10 of those had been waiting for routine care such as knee and hip surgery for more than a year.
Assessing the NHS's finances, Audit Scotland found that an additional £2.9bn of funding was allocated in 2020-21 across health and social care, including £1.7bn for health boards.
The total health budget was £18bn – 35% of the Scottish Budget.
Despite this, 14 of the 22 NHS boards required additional Scottish government funding to achieve financial balance in 2020-21, with six boards facing a "particularly challenging financial position".
Those boards – NHS Ayrshire and Arran; NHS Borders; NHS Dumfries and Galloway; NHS Fife; NHS Highland; and NHS Orkney – have been submitting monthly plans to the Scottish government since last year about how they plan to achieve savings.
Health Secretary Humza Yousaf said the pandemic had put the NHS under the most severe pressure in its 73-year existence and echoed the report's praise for the "extraordinary commitment" shown by health and social care staff.
Mr Yousaf said staffing levels have reached a record high and pledged the NHS Scotland Recovery Plan would get more patients seen quickly and tackle the backlogs of care.
He said: "We agree with Audit Scotland that there is a clear opportunity to do things differently and build on the innovation and collaboration shown during the pandemic.
"That is why our work, including steps to improve data collection, and commitment to invest 20% more – £2.5bn – in our NHS will support recovery and reform," he said.
'Financially unsustainable'
Dr Lewis Morrison, chairman of BMA Scotland, said the report highlighted the need for an honest and open conversation with politicians, the profession and the public about what our NHS could deliver given the current limitations.
"Today's report also supports the view we have long held – and was clearly the case pre-pandemic – that the NHS in Scotland is financially unsustainable, and that position is worsening," he said.
He said there was a "clear danger" that a lack of proper workforce planning would undermine any possible NHS recovery.
Prof Andrew Elder, president of The Royal College of Physicians of Edinburgh, voiced similar concerns – and said a clear strategy was needed to clear backlogs and improve non-Covid care – including life threatening conditions such as cancer.
What's been the political reaction?
The Scottish Conservatives said the report showed the government's "flimsy" Covid recovery plan was inadequate.
Health spokesman Dr Sandesh Gulhane said: "There are huge vacancies across the health service yet we can't fill them because we don't have enough trained people to do so."
Mr Gulhane, who is also a GP, called for the cap to be removed on the number of places at Scottish universities for healthcare-related courses.
Scottish Labour health spokeswoman Jackie Baillie described the report as the most damning on the NHS since devolution
"The failure of Humza Yousaf's so-called NHS recovery plan is plain for all to see as 1 in 8 Scots languish on waiting lists, staff are exhausted and the NHS remains on emergency footing," she said.
Gillian Mackay, health spokeswoman for the Scottish Greens which have a co-operation with the SNP government, said the need for improved recruitment and retention of staff were key messages from the report.
Scottish Lib Dem leader Alex Cole-Hamilton said the NHS and its staff were on the verge of burnout due to "botched workforce and pandemic planning".