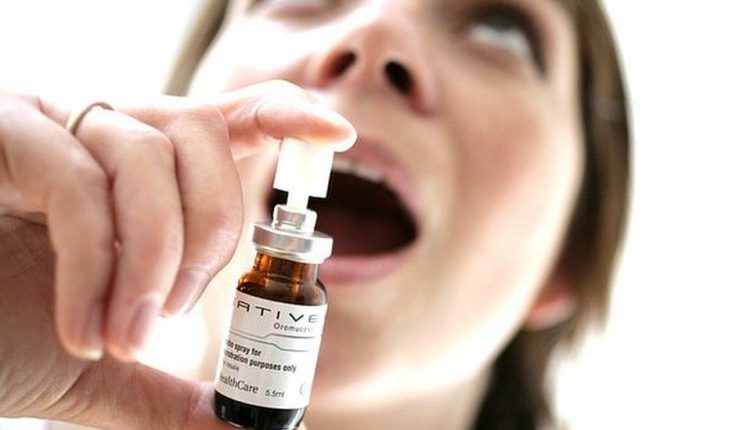 Sativex brain tumour trial fundraising launched
A bid to fund a medical trial of a cannabis-based mouth spray in treatment of the most aggressive form of brain tumour has been launched.
Researchers want to use cannabinoid-containing Sativex with chemotherapy against recurrent glioblastoma.
About 2,200 patients in England are diagnosed each year, with the average survival less than ten months.
The Brain Tumour Charity has launched an appeal to raise £450,000 to fund the three-year scheme.
Sativex, which contains a mix of THC and cannabidiol (CBD) was approved for use on the NHS in 2019 to treat muscle spasms linked to multiple sclerosis.
Researchers want to measure whether adding it to chemotherapy extends the overall length of patients' lives, delays the progression of their disease or improves quality of life.
If the trial proves successful, it could represent one of the first additions to NHS glioblastoma treatment in more than a decade.
"This new trial is so important as it will give people hope that there
could be life beyond a glioblastoma diagnosis and that there are other treatments being trialled to support them to live their lives."
Two cannabis medicines approved for NHS
'Lack of evidence' holding back cannabis medicines
The trial, led by the University of Leeds and co-ordinated by a specialist research unit at the University of Birmingham, is due to begin recruiting more than 230 patients at 15 hospitals across the UK in early 2022.
Olympic gold medallist Tom Daley, whose father died from a brain tumour, produced a video to promote the fundraiser.
Prof Susan Short, professor of clinical oncology and neuro oncology at the University of Leeds, said: "Even with surgery, radiotherapy and chemotherapy, nearly all of these brain tumours re-grow within a year, and unfortunately there are very few options for patients once this occurs.
"Having recently shown that a specific cannabinoid combination given by oral spray could be safely added to temozolomide chemotherapy, we're really excited to build on these findings to assess whether this drug could help glioblastoma patients live longer."

'Life beyond a glioblastoma diagnosis'
Stephen Lee, 62, from Leyland in Lancashire, was first diagnosed in 2010 just a few months after losing his older brother to the same disease.
Mr Lee who took part in an early phase of the trial in 2015, said: "My diagnosis was very sudden and was one of those days you never forget.
"Having had to leave work early with a severe headache and a stabbing pain in my right eye, my wife insisted that we go straight to hospital after what my brother had experienced.
"While I don't know whether I had Sativex or the placebo, since the trial finished in 2016, all my MRI scans have been clear.
"This new trial is so important as it will give people hope that there could be life beyond a glioblastoma diagnosis and that there are other treatments being trialled to support them to live their lives."