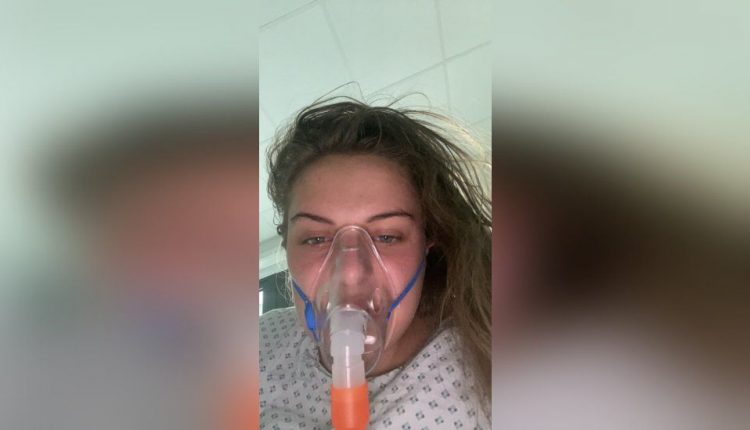 Covid: Teen in hospital with virus urges others to get vaccinated
A teenager in hospital with Covid has warned: "This virus is not a joke for young people."
Former member of the Welsh Youth Parliament, Maisy Evans, is urging other teens to get vaccinated.
The 17-year-old was due to return to sixth form classes next Monday but is currently struggling for breath.
Maisy said it had been confirmed a Covid-related clot on her lung was not caused by the one Pfizer jab she has had.
"This virus is not a joke for young people," she wrote on Twitter. "And those eligible must get vaccinated."
Maisy has since received hundreds of comments on Twitter, with some suggesting her illness was triggered by the vaccine.
"Reading comments from those who are against the vaccines frustrates me deeply," she said.
"I shared my story to encourage my peers to protect themselves."
All 16 and 17-year-olds in Wales to get jab offer
Covid: Under 25s drive rise in positive cases
New Wales school guidance flabby, says trade union
"I haven't got any underlying health conditions, so the severe symptoms are unexplained."
Maisy, who attends Torfaen's Ysgol Gyfun Gwynllyw, said CT scans had confirmed her illness was triggered by her infection.
She has suffered headaches, breathlessness, sickness, achy muscles, dizziness and a loss of taste and smell.
Covid had been an "awful experience", she said, but added she was recovering slowly at Cwmbran's Grange hospital.
She said she had been given antibiotics, steroids, morphine and blood thinners and expected to stay in hospital for a few more days.
"I haven't got any underlying health conditions, so the severe symptoms are unexplained," she said.
"I've simply had a bad experience of Covid-19."
BBC Wales spoke to Maisy via text message as she is so short of breath she can barely talk.
Her doctor has warned it could take a while for the breathlessness to go.
Maisy said she had her first Pfizer jab on 11 August and, at first, she thought her mild headache and achy arm were symptoms of the vaccine.
By 13 August she was feeling unwell and tested positive within 12 hours of being tested.
She was admitted to hospital on 25 August and doctors initially thought she also had meningitis or sepsis.
But after blood tests, X-Rays and scans, it was confirmed she had a Covid-related clot on her right lung.
"I've been in hospital since then," Maisy said. "I'm unsure of when I'll be discharged. I guess that depends on my progress."
Maisy's mother, who has had both jabs, tested positive for Covid too but has only suffered mild symptoms.
Speaking about the comments she had received about her blood clot being vaccine-related, Maisy said: "People with no medical qualifications are trying to tell me that the vaccine has caused the blood clot.
"It's upsetting to see that people just aren't willing to accept that Covid itself can cause these complications.
"They just want to scare people away from the vaccine."

How many 16 and 17-year-olds in Wales have been jabbed?
Offering jabs to 16 and 17-year-olds dominated the Covid-19 vaccine programme in Wales last week.
According to Public Health Wales, 47,538 have received a first dose and 8,347 have had a second jab as well.
That means uptake of the first jab stands at 58.4% and 10.3% for the second jab.
Walk-in clinics are open throughout Wales so people can receive a dose at their convenience.

She said she hoped her story would remind people of the threat Covid-19 still poses.
"My message to others is simple: be careful," Maisy said.
"Do not underestimate how much of an impact the virus may have on you.
"I've been awfully unlucky with how it's affected me, and I hate the thought of it affecting others in this way."
She said the care she had received had been "incredible".
"The staff at the Grange have gone above and beyond at every opportunity and for that, I'll be forever grateful.
"I'll almost miss the nurses on the ward. I thank them for saving my life."