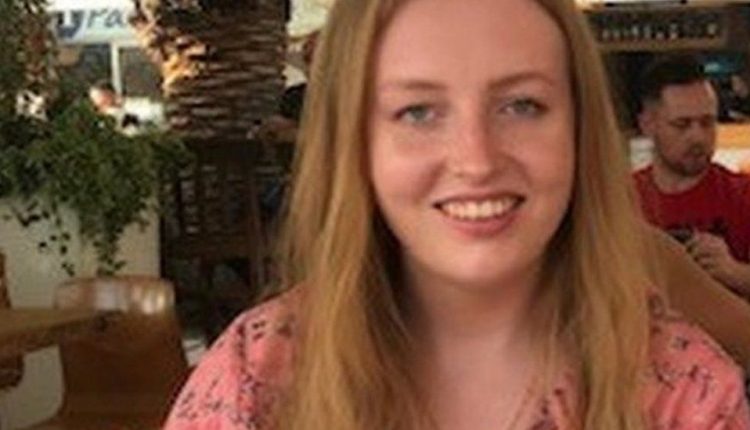 Covid in Scotland: 'I'm double-vaccinated but can't show the proof'
A woman who was vaccinated in England and Scotland says she cannot get an accurate vaccination certificate because of issues with data-sharing across health services.
Maura McGoldrick, 21, received her first dose in London and her second in Glasgow, where she lives.
However, her vaccination record only shows her having received one dose.
The fourth-year student at the University of Edinburgh is concerned others may be similarly affected.
The Scottish government said it had been working to "align" vaccination data from across the UK.
The certificates are necessary for travelling abroad and could be used as part of a passport scheme to allow people into nightclubs and large events.
Scotland's system has already seen problems including a recent security glitch and people being denied use of the pass in certain countries.
It has only recently been made available in the form of a QR code – despite a digital passport being widely used across Europe for months.
"It's the fact that we've been cooped up for so long," she said. "I felt when I got two doses I had done everything I was supposed to do."
'Hopeless situation'
While travelling to London over the summer, Ms McGoldrick said she heard news of the push for young people to visit drop-in vaccine clinics – and attended a local clinic the following day.
She said the medics at the centre were unable to find her NHS records, but took her name and address and gave her a card which stated the batch of the vaccine she had just received.
To be safe, Ms McGoldrick said she quickly phoned NHS Inform to let them know she had received her first jab outside of Scotland and was told her records would be updated.
However, when she received her second dose in Glasgow in August, she was told the first dose was missing from her medical records.
How do I get a vaccine certificate in Scotland?
What do we know about the vaccine passport?
Double-jabbed students denied quarantine exemption
She requested her vaccine certificate by post and, again, the document showed one dose issued in Glasgow.
"Because there have been other things going on, it's just compounded general stress and been emotionally draining," said Ms McGoldrick.
"I know rationally it's not the end of the world and I'm very privileged even to just have the vaccine.
"But I'm now at the stage where there is no-one else for me to call, no more leads for me to pursue – it's a bit of a hopeless situation."

Have you experienced problems with your vaccine certificate because you had doses in two different UK countries? Please share your stories and pictures with us.
You can now get in touch with BBC Scotland on the phone messaging service, WhatsApp.
To start using the app, simply download WhatsApp on to your smartphone free from the internet.
Then add our WhatsApp number +44 7902 704679 to your phone's contact list.
Please make sure you read our terms of use and privacy policy.

Ms McGoldrick has spent more than two weeks calling NHS Inform and her GP in order to resolve the matter.
She said her GP managed to acquire information on her vaccination in London.
However, she said NHS Inform staff told her there was no data-sharing mechanism between them and NHS England and they would need to request the information from NHS Greater Glasgow and Clyde.
The Scottish government then refuted the claim about data sharing, saying it has worked to "align" vaccination records from different UK nations.
A spokesperson said: "We are aware some people have encountered problems but it's untrue to say there is no data-sharing and we are working closely with other nations to resolve the issue.
"We have a process in place for sharing data between England and Scotland and continue to work with international stakeholders to improve the transfer of data across borders.
"Updated NHS Inform guidance contains guidance on what to do if you have been vaccinated abroad or have been vaccinated in different parts of the UK."
What does the NHS say about vaccine status and the Common Travel Area?
NHS Greater Glasgow and Clyde gave the BBC contradictory information, saying that NHS Scotland certificates "can only contain information on vaccines administered in Scotland".
It has not responded to a further query.
Ms McGoldrick is currently trying to get the health board to share her GP's information with NHS Inform – but said other people in her position may not be able to chase it up.
She said: "Selfishly speaking, I'm trying to sort this out for myself but I'm in the fortunate position where I have time to chase this up.
"But I know there are other people in the same position – NHS Inform said they had other people call about this but assumed they sorted it out. People have probably just given up as it will take more time and effort that they have to give right now."
As a result of her vaccine status issue, Ms McGoldrick has postponed her October plans to travel to Copenhagen – partly for leisure, but also to do work experience related to her university course in international relations.
She said she thought she was doing the right thing by getting her vaccine as quickly as possible, but the bureaucracy and cancelled plans that resulted had been a "bit of a blow".
"It's the fact that we've been cooped up for so long," she said. "I felt when I got two doses I had done everything I was supposed to do."