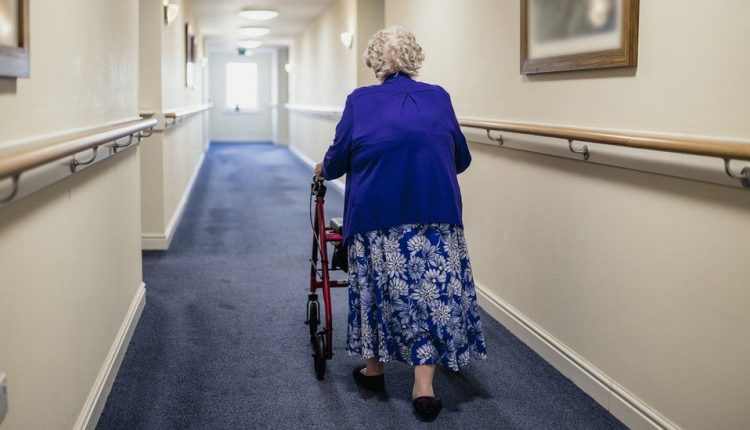 MPs to vote on health and social care tax rise
MPs will vote later on whether to raise National Insurance to fund health and social care, a day after Boris Johnson announced the manifesto-breaking move.
The prime minister says it will raise £12bn a year which will be used to tackle the health backlog caused by the Covid pandemic and boost social care.
He described the plan, which includes capping care costs in England at £86,000, as "reasonable and fair".
But some critics have said the money raised will not be enough.
Labour leader Sir Keir Starmer described the plan is a "sticking plaster", while leaders in social care have warned the plan will not address current problems.
What would a National Insurance rise mean for me?
Social care changes at-a-glance
PM bets on imperfect care solution over inaction
"Huge opportunity missed for radical, once-in-a-generation reform of the social care system."
Mr Johnson said the majority of the funds raised by the tax rise would go towards catching up on the backlog in the NHS created by Covid – increasing hospital capacity and creating space for nine million more appointments, scans and operations.
A portion of the money – £5.4bn over the next three years – will also go towards changes to the social care system, with more promised after that.
But there was anger from the social care sector over the amount they had been promised as a result of the tax.
UK Home Care Association chief executive Dr Jane Townson said it was "nowhere near enough" and some measures could "create new risks".
Chairman of the Independent Care Group, Mike Padgham, said it was a "huge opportunity missed for radical, once-in-a-generation reform of the social care system", adding it would not address the staffing crisis which was "sending the sector into meltdown on a daily basis as care providers struggle to cover shifts".
And the general secretary of the Unison union Christina McAnea called for a detailed plan to "mend and future-proof a sector broken by years of neglect".
The announcement of the tax increase comes as a survey suggests there has been a sharp increase in the number of people waiting for help with social care from councils in England.
A snap survey by the Association of Directors of Adult Social Services, taken at the end of August, found that in three months it is estimated the number of people waiting for an assessment to decide what help they need and whether their local authority will pay for it has risen from 55,000 to more than 70,000.
The tax will begin as a 1.25 percentage point rise in National Insurance from April 2022, paid by both employers and workers, and will then become a separate tax on earned income from 2023 – calculated in the same way as National Insurance and appearing on an employee's payslip.
This will be paid by all working adults, including older workers, and the government says it will be "legally ring-fenced" to go only towards health and social care costs.
Income from share dividends – earned by those who own shares in companies – will also see a 1.25% tax rate increase.
The Institute for Fiscal Studies said the latest tax increases amounted to £14bn. Together with those announced in the March Budget, it said, 2022 had seen the highest tax rises in 40 years.
The UK-wide tax will be focused on funding health and social care in England, but Scotland, Wales and Northern Ireland will also receive an additional £2.2bn to spend on their services.
During a press conference on Tuesday, Health Secretary Sajid Javid was unable to say if the NHS backlog could be entirely cleared within three years – although he said a "huge amount" of it would be.
A cap will be introduced on care costs in England from October 2023 of £86,000 over a person's lifetime.
All people with assets worth less than £20,000 will then have their care fully covered by the state, and those who have between £20,000 and £100,000 in assets will see their care costs subsidised.
Mr Johnson insisted that with the new tax "everyone will contribute according to their means".
But Labour's Sir Keir said the tax broke the Conservatives' pledge at the last election not to raise National Insurance, income tax or VAT.
He also said the rise would target young people, supermarket workers and nurses, rather than those with the "broadest shoulders".
The SNP said the tax would "leave the poorest in society subsidising the wealthy" while the leader of the Liberal Democrats, Sir Ed Davey also said the tax was "unfair".
Mr Johnson said no Conservative government wanted to raise taxes but defended the move as "the right, reasonable and fair approach" in light of the pandemic, which saw the government spend upwards of £407bn on support.
While he said he did not want to raise taxes further he did not rule out more increases before the next election.
Why the cap on care costs is not all it seems
What will the new Health and Social Care tax cost me?
The government has also announced it will suspend the so-called "triple lock" on pensions for one year following concerns that a big post-pandemic rise in average earnings would have led to pensions increasing by 8%.
Ahead of the announcement on social care, there was a backlash from number of Tory MPs, who said they were against a rise in National Insurance and Mr Johnson is expected to address the influential 1922 committee of backbench Tory MPs ahead of the vote.