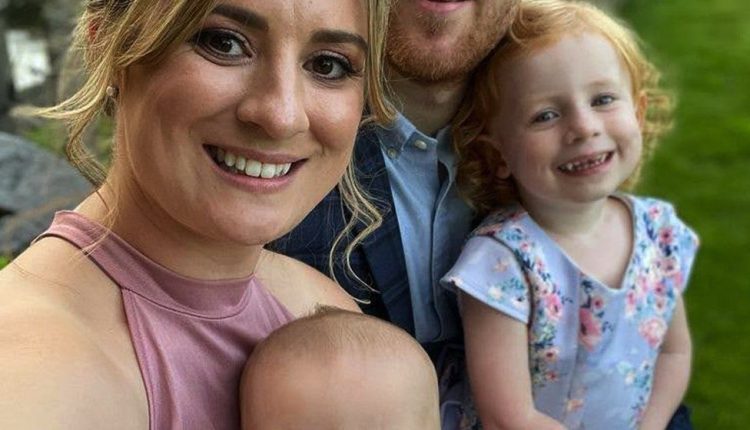 Covid tests: I trusted my PCR results
Around 43,000 people in England and Wales may have been wrongly told their Covid-19 test was negative because of errors at a private laboratory.
We spoke to some people who feel they were given the wrong results and may have carried the virus unwittingly.
"I didn't for one minute think I had coronavirus. I completely trusted the PCR so I feel bad for all the people I've been in contact with."
'I felt responsible'
Helen Theakston from Poole said she was shocked when her three-year old daughter's PCR results came back as negative – as she was so sure she had the virus.
Her partner had had Covid the week before, and her daughter had a temperature and a lateral flow test (LFT) that had turned positive "instantly".
She told BBC News: "You trust the test."
She rang Test and Trace after the negative PCR test because she felt unsure about what to do next.
"I was told the gold standard was the PCR and to ignore the LFT tests unless things got worse," she said.
"I felt responsible for deciding what to do – whether to isolate, who to meet.
"I ended up cancelling a play date because I did not feel comfortable."
Covid test lab suspended over wrong results
Lateral flow test more accurate than first thought
Over the week her daughter's symptoms returned, so she did another PCR test – this time it was positive.
Helen rang Test and Trace back to let them know.
She said the person on the end of the phone did not sound overly surprised, and told her that she had heard of a few people in the same situation.

'It is eroding trust in the system'
Helen Diggle, who lives in Tellisford, Somerset, said she had five positive lateral flow tests and three negative PCR tests before finally testing positive for coronavirus on PCR.
On one of her visits to a testing centre, she said a member of staff told her she had seen lots of very similar cases recently, especially involving local schools.
Mrs Diggle told BBC News: "It is really worrying that some people in the system, people on the ground, have been aware something was going on."
When Mrs Diggle and her 10-year-old daughter kept having negative PCR tests despite high temperatures and positive LFTs, she knew something was not right.
"I was very conscious by having all these tests I could have been wasting NHS resources to satisfy my own conviction that I had Covid. I felt like I was being unnecessarily neurotic."
But when her son tested positive on PCR testing equipment owned by his school, it was "blindingly obvious we all had Covid," she said.
Mrs Diggle feels the situation is particularly unfair to schoolchildren.
"If children test negative on PCR then schools have to take children back.
"So you probably have many more cases in school than they are expected to deal with.
"I feel we have been short-changed – particularly the children – because testing is not working as it should be."
Her son's school has now cancelled sports matches and events where parents come into the school.
"My concern is it is leading not just to the spread of the virus, but is eroding trust in the testing system."

'I thought I had a cold'
Graham Loader, from Newbury, says his family have had three positive lateral flow tests, all followed by negative PCR tests taken at the testing site at Newbury Showground in West Berkshire.
He said each time the family got a positive LFT but negative PCR test, they assumed the LFTs must be at fault.
He told BBC News: "I think we just blamed the LFTs because they were a bit basic.
"I thought they must be detecting something from a cold and be an error."
His wife, a schoolteacher, had felt a bit unwell but without the classic symptoms of coronavirus.
She had a positive lateral flow test but then a negative PCR test.
She took some time off work as a precaution, despite being advised she did not need to.
Mr Loader, who coaches a boys' football team, said he believed because of his negative PCR result, that he had just come down with a cold.
He said: "I told people I had been given the all-clear by lab tests.
"I didn't have a cough or a temperature. I told them I thought I had a cold so they might not want to get too close,
"I didn't for one minute think I had coronavirus. I completely trusted the PCR so I feel bad for all the people I've been in contact with."