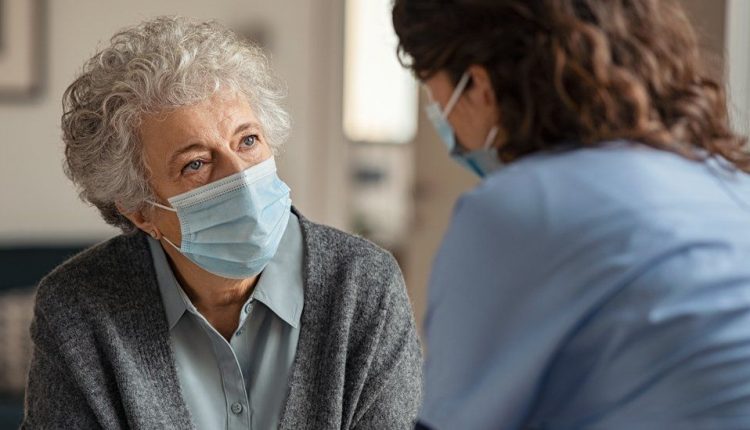 Care staff shortage harms services for thousands, say managers
Managers of community care services supporting more than 15,000 people in England, say acute staff shortages are forcing them to turn down new clients.
The National Care Forum of mainly not-for-profit organisations, says care providers are having to make tough decisions about who they can help.
Last week health bosses said the care shortage meant more patients judged fit to go home were stuck in hospital.
The government has promised extra money to train and recruit new care workers.
Care staff shortages pile pressure on NHS
How do I find a new job and who is hiring?
"We are also working to ensure we have the right number of staff with the skills to deliver high quality care to meet increasing demands."
Care providers are facing acute problems in recruiting and retaining frontline staff for a variety of reasons including burnout from the pandemic and higher pay rates being available elsewhere as the economy picks up.
Managers told researchers many existing staff were struggling with an increased workload and wanted to quit.
Researchers for National Care Forum (NCF), together with the Outstanding Managers Network, questioned 340 managers and said their answers highlighted the "stark reality" in the care sector.
Between them, those questioned employ more than 21,000 staff who care for more than 15,000 people at home or in care homes.
The findings suggest that they have nearly a fifth of positions vacant, with backroom staff having to fill in as frontline carers.
More than two thirds said they were having to stop or limit services.
These pressures are resulting in having to say no to new clients, including those being discharged from hospital, researchers say.
In other instances, managers say they have had to hand home-care contracts back to councils.
The researchers estimate that, between them, they have turned down nearly 5,000 requests for help in the past six weeks.
Hospitals are already warning of the knock on effect this is having on them, and managers fear that with existing workers exhausted, this may be just the beginning of the staffing crisis.
One manager told the researchers it was "heartbreaking, turning down 10 plus packages of care that are needed a day".
Another, in the same position, said: "Sadly, have not got enough staff to look after them safely".
Another was worried about financial viability, having increased wages to compete for staff, without any increase in funding.
A fourth was "seriously considering having to close".
NCF chief executive, Vic Rayner, said the findings were "uncomfortable reading and offer evidence of the stark reality".
"Providers are having to make very difficult decisions about who they can support, sometimes resulting in people with high or complex needs not getting access to the care and support they desperately need," Mr Rayner added.
Last week NHS Providers, which represents health service trusts, called the situation "dire" and particularly worrying with winter about to put extra pressure on services.
In response separate research, also last week, which suggested that more care jobs are unfilled than before the pandemic, a Department of Health and Social Care official said the government was providing at least £500m to support the care workforce as part of the £5.4bn to reform social care.
"We are also working to ensure we have the right number of staff with the skills to deliver high quality care to meet increasing demands," said the statement.