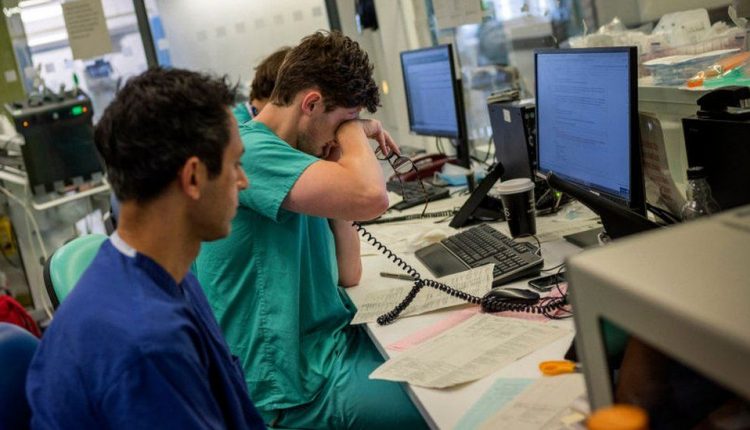 NHS in Wales under highest pressure ever, says chief exec
The NHS in Wales is under the most intense pressure in its history as staff prepare for their most difficult winter, its chief executive has said.
Dr Andrew Goodall said Covid had led to the system running "at the hottest we've seen", with record backlogs of treatments and demands for other care.
Seventeen organisations representing staff have jointly warned of a "deepening winter care crisis".
It comes as the Welsh government unveils its winter pressures plan.
The latest NHS Wales data will be published later.
Trainee doctors scared to come to work, says report
Some mums-to-be in Wales to get pre-eclampsia test
Wife blames hospital restructuring for amputation
'Many men are oblivious they can get breast cancer'
"Everybody needs to do their bit including the public, but I know NHS staff
will pull out all the stops."
Dr Goodall said: "It does feel this is the most challenging period… and we can see that in the data.
"Rather than just focusing on coronavirus we've got the NHS trying to restore a range of activities across all its settings."
Dr Goodall said there were 700 Covid patients in hospital beds – the equivalent of two medium-seized district general hospitals – alongside record ambulance calls, high levels of emergency demand and a busiest-ever primary care sector.
Last month's statistics showed the worst-ever performance figures for Welsh A&E departments, with 68.7% of patients spending less than four hours waiting.
Waiting lists also grew further to 643,108, a record which is equivalent to more than 20% of the Welsh population.
Dr Goodall said some planned operations would likely be postponed over the winter.
"Inevitably there will be some disruption and that will involve planned care, but the commitment of the NHS is to maintain as many of its activities in all of its settings for as long as possible."
He said health boards would need to make decisions regarding the extent planned services could be protected in the face of other pressures.
What is a Covid pass and how do I get one?
Covid deaths and hospital admissions rise in Wales
Earlier this week, Health Minister Eluned Morgan said it would be "very tough" to work through waiting lists, but health boards had been told to "keep in touch" and offer support, such as pain relief, to those waiting.
The Welsh government's winter pressures plan included an extra £40m for social care, as well as extra funding for front-line services, to try and tackle delays discharging patients from hospital and cut readmissions of frail and vulnerable people.
But Dr Goodall said staff shortages in the care workforce were concerning.
He said: "The resilience of the care system is a concern – it feels it is at its most fragile even with the support available.
"We've provided funding to make sure the care sector is further supported, but workforce elements is a problem, whether it's people choosing to enter a care career or the community prevalence of Covid, meaning staff have to self-isolate"
Exhausted staff
Meanwhile, 17 medical royal colleges and faculties have warned of a growing winter crisis and called for a national plan to deal with staff shortages.
A recent survey by the Royal College of Physicians found 46% of respondents in Wales said their organisation was not at all prepared for winter, 37% felt personally unprepared, with 63% feeling tired or exhausted.
Asked if the pressures of winter might "break" exhausted staff, Dr Goodall said: "This [pandemic period] has been a much more sustained experience than many of us would have envisaged.
"When we usually talk of a major incident we talk of a matter of hours or days. We've been running a major incident situation for 20 months now.
"Everybody needs to do their bit including the public, but I know NHS staff will pull out all the stops."