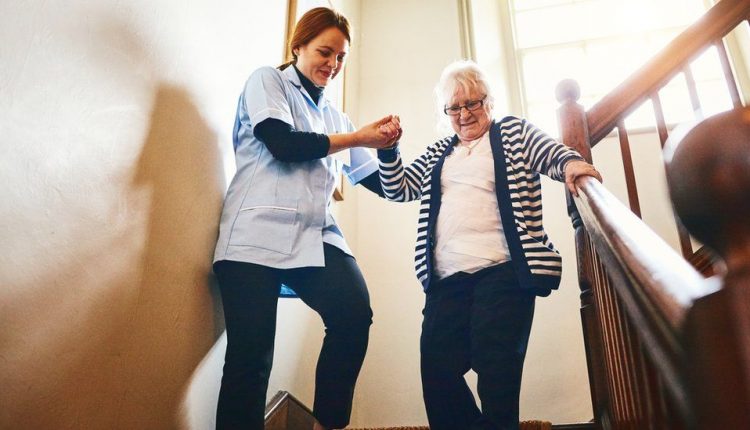 Social care faces tsunami of unmet need – watchdog
The care system faces "a tsunami of unmet need" this winter, England's health and social care watchdog has warned in a report.
The workforce is "exhausted and depleted," says Care Quality Commission (CQC) chief executive, Ian Trenholm.
The report urges immediate work to address the problem of rising numbers of unfilled care sector jobs.
On Thursday the government announced an extra £162.5m to boost the adult social care workforce.
This is in addition to £5.4bn earmarked for social care over the next three years from the government's health and social care levy, which already includes £500m to be spent on the workforce.
The CQC welcomes the money but has a warning: "It must be used to enable new ways of working that recognise the interdependency of all health and care settings, not just to prop up existing approaches and to plug demand in acute care."
Care staff shortage harming services, say managers
Care staff shortages pile pressure on NHS
Social care changes at-a-glance
"We are working on health and social care reform to ensure we can
provide world-leading services and are committed to learning lessons from the pandemic,
with a full public inquiry in the spring."
In its latest State of Health and Social Care in England report, the CQC confirms fears that social care providers are facing a staffing crisis, losing staff to better paid jobs in retail and hospitality, and unable to recruit replacements.
Across England, numbers of unfilled jobs are rising month on month, the researchers found, from 6% in April to more than 10% in September.
London is worst affected with 11% of jobs vacant, followed by the East Midlands at 9.4% and the South West at 9.2%.
This means care providers are having to limit their services, the researchers found.
Supermarkets pay more
In Devon, Rebecca Marks, director of Ark Care Homes, says more than one in five of their beds are empty, because they cannot afford to staff them.
She says current staff are exhausted after the pandemic, and despite the company offering funding for training and qualifications, and paying joining bonuses, "they are saying: 'You know, I'm going to go and work in a supermarket.'"
"We need help and we need it fast… whether it's funding to be able to pay our staff higher wages to represent the responsibility and the amazing job that they do, or something different.
"It's a very difficult place for care providers and care staff, and ultimately our residents."

In the measured tones of a regulator, this report makes it clear that a staffing crisis in the long overlooked care system, has much broader consequences.
A "tsunami of unmet need" is more than a striking phrase. It represents a lack of support that can leave someone who is disabled or in the later years of their life, struggling. Alone or with family, facing grinding daily difficulties and too often deterioration that ends in crisis.
It is distressing for those at the heart of it and pressure on an overstretched NHS that with the right support might have been avoided.
The extra money the government has announced will help, but councils and care organisations have been quick to say it won't be enough.
And the suggestion it could lead to tens of thousands of new care staff is likely to be greeted with a wry smile coming just 18 months after the last government recruitment campaign failed to do that.

Unpaid carers who look after relatives at home are among those hit hard by the staffing squeeze.
Dorothy Cook cares for her husband Melvin, at home in Bristol. Melvin is in the advanced stages of a degenerative brain disease which has left him unable to wash, dress, shower or feed himself without her help.
Following a fall in February, he was in hospital for six weeks, and then spent four months in a rehabilitation unit.
Melvin is meant to have a care package at home but the provider ended it after five weeks, as his condition was too complex for them to manage.
That was 12 weeks ago, and Dorothy is struggling.
"It all falls on my shoulders, and I'm on my knees with exhaustion," she told the BBC.
"We both feel completely and utterly alone. We feel that nobody cares."
Carers UK, which represents unpaid people like Dorothy, says a survey of 8,000 of its members suggests more than half (55%) have lost some or all of the support they need, since the pandemic.
The government says it will take steps to ensure that unpaid carers have the support, advice and respite they need, with more detail to be published later this year.
'No silver bullets'
In its report, the CQC pays tribute "to the professionalism and resilience of everyone that works in social care", but according to Chief Executive Ian Trenholm: "Those people cannot be expected to work any harder."
"If we're to get safely through this winter, there needs to be urgent action."
He says local leaders of health and social care services will need "to make maximum use of everything they have at their disposal to get safely through the winter… If these things don't happen there is the genuine risk of a tsunami of unmet need, with many people not getting the care that they so desperately need this winter."
He believes the key is more collaboration between services and urges a rapid overhaul: "We can't be in this position in a year's time. We need to be thinking about what systems will look like in the future.
"We are really clear, there are no silver bullets, there are no simple answers to what is a very, very complex problem."
A Department of Health and Social Care official said: "We appreciate the dedication and tireless work of health and social care staff throughout the pandemic.
"We have provided record levels of investment to support them and will provide £36bn over the next three years for health and social care across the UK.
"We are working on health and social care reform to ensure we can provide world-leading services and are committed to learning lessons from the pandemic, with a full public inquiry in the spring."
Shadow Minister for Social Care, Liz Kendall, called the report "devastating", saying the government's recent social care announcement would not help.
"Labour is calling for a ten-year plan of investment and reform," to include a new deal to transform pay, training and conditions for care staff, and a shift in focus towards prevention and early intervention, said Ms Kendall.