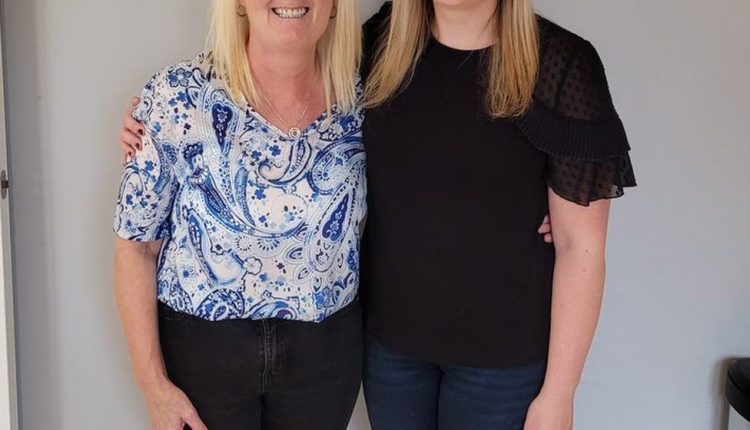 'We knew something was wrong when mum shrank overnight'
Alison McDonald had always been taller than her daughter – so when she suddenly shrank below her height, the family knew something was wrong.
The mother-of-four had spent weeks with an "excruciatingly painful" back, but hospital doctors had put it down to nothing more than muscle aches.
Then one day her daughter Vicci Hughes noticed she was "towering over" her mother.
When they realised Alison was now about four inches shorter than before, she returned to hospital – and was eventually diagnosed with myeloma, an incurable blood cancer.
The 56-year-old, who lives in Edinburgh, told BBC Scotland how Vicci had noticed the height difference on Alison's birthday.
"I felt horrible that she had been carrying on and doing things when she had this.
I couldn't believe it."
'A pang of fright'
Alison said: "It was really weird. I was standing beside my daughter and she said: 'Mum you've shrunk… there is something not right.'
"So we got a measuring tape against the wall and sure enough I had dropped from 5ft 6in to 5ft 2in. My daughter is 5ft 5in.
"I got a pang of fright and then noticed part of my spine was sticking out of the middle of my back.
"I thought, this isn't muscular like they have been telling me, and I need to get help."
Back at the hospital, an x-ray showed Alison had several breaks in her spine. She was walking with a stoop and had lost a stone in weight.
She was given a back brace, but pain in her ribs meant she had to take it off.
It was not until three months later that a GP intervened and said Alison needed more scans.
After a CT scan in April and bone marrow tests, doctors discovered Alison had myeloma.
She has since had chemotherapy and is now undergoing stem cell treatment in an attempt to double her remission time.
A spokeswoman for Myeloma UK said the condition was the third most common type of blood cancer, affecting more than 24,000 people in the UK.
But is it difficult to detect because the symptoms, which include back pain, easily broken bones, fatigue, weight loss and recurring infection, are often linked to ageing or minor conditions.
The other symptoms include:
High calcium levels in the blood
Reduction in kidney function
Unexplained anaemia
Nosebleeds or unexplained bleeding
Unexplained breathlessness
Unexplained damage to the peripheral nervous system, most commonly in the hands and feet.
The spokeswoman said: "While it is incurable, myeloma is treatable in the majority of cases.
"Treatment is aimed at controlling the disease, relieving the complications and symptoms it causes, and extending and improving patients' quality of life.
"More than half of patients face a wait of more than five months to receive the right diagnosis and around a third are diagnosed through an emergency route. By that point, many of them are experiencing severe or life-threatening symptoms."
Alison said she had three unexplained rib fractures 18 months ago, but had not realised that this could have been the start of myeloma.
"I'm very fortunate my daughter pointed out to me that I had shrunk, or I would have carried on thinking this very painful back was just muscular and I wouldn't have started on any treatment," she added.
Vicci, a police detective who lives in West Lothian, said: "When I noticed my mum had shrunk I pushed for an x-ray because I could see it was something more than muscular.
"The x-ray showed breaks in her spine that were akin to something like a horse riding accident, they were severe fractures like in an accident.
"She then said she had been told her bones had lots of holes in them like Swiss cheese.
"I felt horrible that she had been carrying on and doing things when she had this. I couldn't believe it."
Vicci, who is going to have her hair shaved off on Sunday in support of her mum, added: "My mum doesn't expect a lot out of life. She's not the big adventurer and doesn't go on big holidays.
"She's quite happy living a simple life with her family. I hope she has a long time left."