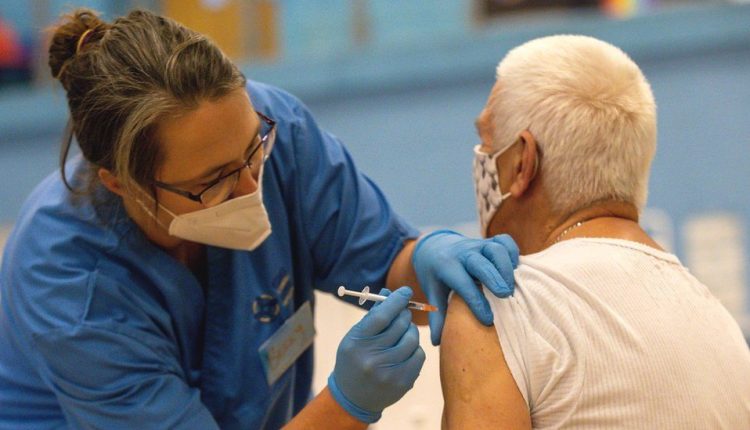 Covid: Get booster jabs so we can enjoy Christmas – Javid
People should get their Covid booster jabs as part of a "national mission" to avoid restrictions over Christmas, Health Secretary Sajid Javid has said.
So far almost 10 million people in the UK have had a top-up jab, which Mr Javid said was a "phenomenal achievement".
But around 30% of over-80s and 40% of over-50s in England are yet to do so, according to government figures.
Mr Javid urged people to "play their part" to help get through the winter.
His comments come as NHS England prepares to invite another three million people for their booster jabs next week.
"If we all come together and play our part, we can get through this challenging winter,
avoid a return to restrictions, and enjoy Christmas."
Booster jabs are available in the UK to anyone aged 50 and over, front-line health and social care workers and over-16s with some health conditions. They can get it six months – 182 days – after their second dose.
Mr Javid said: "We know immunity begins to wane after six months, especially for the elderly and the vulnerable, and booster vaccines will top-up their protection to keep people safe over the winter."
Where can I get my booster jab?
Will complacency damage booster rollout?
Long way to go on booster jabs – Welsh minister
The health secretary called on younger relatives to support their parents, grandparents and loved ones in getting their Covid and flu jabs urgently.
"And if you haven't yet had your first and second vaccines, it is not too late," he said. "The NHS will always be there to welcome you with open arms.
"If we all come together and play our part, we can get through this challenging winter, avoid a return to restrictions, and enjoy Christmas."
From Monday, people living in England can book their booster jabs a month in advance as part of efforts to accelerate the rollout.
Some 30 million people across the UK will eventually be eligible for a top-up jab.
NHS England said eight million people had received theirs so far, out of the 12 million who have been invited.
Meanwhile, reported cases of the virus continue to fall, with another 30,693 cases recorded on Saturday. A further 155 people died within 28 days of a positive test.

Where are we at with Covid now?
Nearly every source of data agrees that there is a lot of coronavirus around, but that has started to fall.
Within the data, there are two epidemics currently worth considering. The big one is in school pupils who are still mostly unvaccinated, but at relatively low risk from Covid.
And an emerging one in at-risk groups, who are now being offered their booster doses.
The sheer scale of the rise and then fall in infections in young people means the overall picture is dominated by people who are generally at low risk of needing hospital treatment for Covid.
But infectious diseases expert Prof Mark Woolhouse, from the University of Edinburgh, says he's worried about the steady increase in cases among older age groups.
Read James's full analysis here.

While two vaccine doses give people high levels of protection, immunity reduces over time, particularly for at-risk groups.
The government's Scientific Advisory Group for Emergencies (Sage) estimates the protection against needing hospital treatment for a Covid infection falls:
from 95% three months after a second dose of AstraZeneca to 75% after six months
from 99% three months after a second dose of Pfizer to 90% after six months.
The protection against symptomatic disease falls from 65% to 45% over the same time period with two jabs of the AstraZeneca vaccine, and from 90% to 65% for two jabs of Pfizer.
Experts say even small dips in immunity among at-risk people will affect the NHS's ability to cope this winter, as it will likely lead to significantly more people needing hospital treatment.
On Wednesday, England's deputy chief medical officer Jonathan Van-Tam cautioned it could be a difficult winter ahead and urged people to get their boosters.
And last week the Welsh government warned of a possible return to a return of some Covid restrictions to allow a "normal" Christmas.