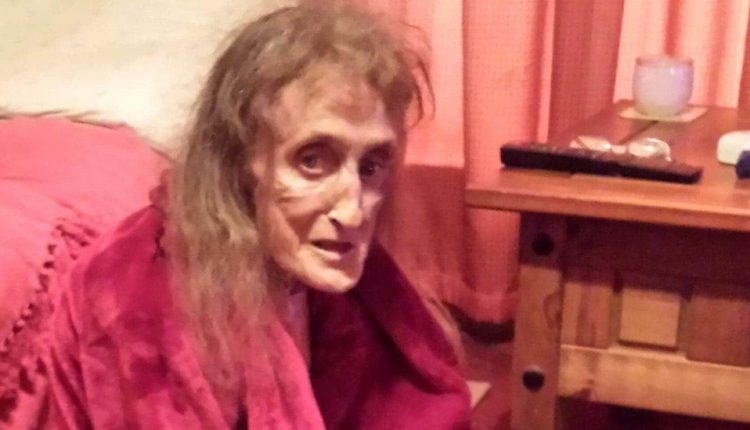 Hundred people die challenging terminally ill benefits awards
Around 100 people denied fast-tracked disability benefits for terminal illness died challenging the decision.
Currently, patients can access benefits more quickly if their clinician says they have six months or less to live.
In July the government promised to extend that to 12 months. Critics said it did not go far enough.
"Our priority is dealing with people's claims quickly and compassionately," the Department for Work and Pensions (DWP) said.
End-of-life charity Marie Curie said it had "serious concerns about the DWP's ability to recognise when a claimant was approaching the end of life and was in desperate need of support".
Dr Sam Royston, its director of policy and research, said if people died before their appeals were decided it was "highly likely they were living with a long-term or terminal illness".
"Many of these people should have received fast-track access to support [originally]," he added.
Patients can currently access fast-tracked benefits at a higher rate by applying under the Special Rules for Terminal Illness (SRTI).
"The chances of the government proposing a bill specifically for this are quite slight,
as are the chances of them having the time and the Parliamentary bandwidth."
They need to submit a form signed by their clinician, saying it is probable they will die within six months.
The DWP said of those who applied "the majority received the highest possible award and were paid within three days of making a claim".
But charities said the system was flawed.
The Motor Neurone Disease (MND) Association said the unpredictability of the speed with which a person with MND might deteriorate, meant it was difficult for neurologists to give accurate prognoses.
Susie Rabin, head of policy and campaigns at the MND Association. said that made it difficult for people to access benefits through the special rules.
Dr Catherine Millington-Sanders, the clinical lead for palliative and end of life care for the Royal College of GPs, added doctors "still faced uncertainty when determining exactly how long someone has got to live".
"It makes little sense to have a rigidly set time cap to be a determining factor," she said.
Payout after mum died following benefit errors
Seven out of 10 win benefits challenges in court
DWP sees 'sharp rise' in benefit death reviews
Affected families and charities said the current process was "overly complex and stressful" and it remained unclear when reforms would happen.
They have also called for the government to go further and scrap the requirement for people on terminal illness benefits to be reassessed every three years.

'We've been forgotten'
Helena Reynolds, from Essex, who is terminally ill with intestinal failure, said the current six-month rule was "pointless" because "terminal meant terminal".
"It's like we've been forgotten. All we're asking for is a little dignity; we shouldn't have to beg for our benefits when we get ill," she said.
Mrs Reynolds was aged 14 when she was diagnosed with Crohn's disease and had 23 operations on her abdomen before she was awarded Disability Living Allowance (DLA) for life in 1991.
When Personal Independence Payment replaced PIP in 2019, her benefits were initially cut, but later reinstated on appeal.
This year, although her doctor said her condition would "almost certainly…prove fatal at some point", they could not say she had less than six months to live.
Instead, she had to re-apply for PIP under the standard route and was given a 10-year PIP award. The longest possible award under special rules would have been for three years.
Paul Alexander, policy manager at disability equality charity Scope, said: "This is a clear example of the system being overly complex, stressful and inconsistent."
"It doesn't make sense that someone would go from getting a 'lifetime' award, to being refused support from its successor benefit, despite being terminally ill," he added.
Dr Royston from Marie Curie said few people awarded benefits under special rules lived beyond three years but for the small number who did it was "inappropriate and insensitive" they had to make a new application or risk losing support.

'It was degrading'
Christine McCluskey, from Dundee, Scotland, had a history of illnesses including Crohn's Disease, osteoporosis, and suffering a stroke in 2005.
She was told her PIP would be stopped and that DWP would try to recoup an overpayment of Employment Support Allowance after a physical assessment, which described her as having a "slim build" and being a "pleasant lady to assess".
She weighed around 5st 6lbs (34.4kg) at the time and was being fed by a drip, her daughter Michelle said.
Then she received a terminal lung cancer diagnosis in July 2018.
She submitted a form from her doctor to the DWP about her separate terminal diagnosis but a letter came back in September 2018, a month later, to say that information – the form – required her to start a fresh claim. She died the same day aged 61.
Michelle believes the application process needs to change so fast-tracked support can be paid automatically to people with a terminal diagnosis.
It was "degrading" for a person to need to submit a form putting a time frame on their own death, she said.
Michelle, who previously shared pictures of her mother with national newspapers to highlight her experience, said: "You just have to look at her to see she wasn't well and that was before she had cancer."
In February 2019, a tribunal ruled Christine's PIP should not have been cut. The DWP paid the arrears owed.

What happens next?
Madeleine Moon, former Labour MP for Bridgend, previously sponsored a Private Members' Bill in 2018 which proposed to remove the six-month time limit and replace it with a clinical judgment made by an appropriate health professional.
Parliamentary time ran out to discuss the bill beyond its first reading in the House of Commons and then Mrs Moon lost her seat. Jessica Morden, Labour MP for Newport East, has now taken up the bill again.
Mrs Moon, whose husband Steve died from motor neurone disease in 2015, said: "The cruelty, if not the inhumanity, of the current system is shocking.
"I'm glad the government has accepted the current rules are wrong.
"Most people in the initial shock [of receiving a terminal diagnosis] aren't thinking about benefits, they are thinking what have I got to do to live whatever time I have left.
"You need to plan for the new future and you need to stabilise the family's finances. What you can't do is spend the time going through the long time to access PIP."
Northern Ireland's communities minister Deirdre Hargey has committed to bring forward legislation to widen the eligibility to people with less than a year to live, before the next assembly election is due in May 2022.
In July, then-minister for disabled people Justin Tomlinson said Westminster would make the same change for Universal Credit and Employment and Support Allowance (ESA) next year and Attendance Allowance, Disability Living Allowance and PIP "when Parliamentary time allowed".
The DWP reiterated it would make those changes "so more people could get the vital support they needed".
University of York Professor of Law Charlotte O'Brien, a specialist in welfare law, said it was a different process to change the rules for universal credit and ESA because those rules were in secondary legislation regulations, whereas DLA, PIP and Attendance Allowance were set out in the Welfare Reform Act 2012, so a new Act of Parliament could be required.
"The chances of the government proposing a bill specifically for this are quite slight, as are the chances of them having the time and the Parliamentary bandwidth," Prof O'Brien said.