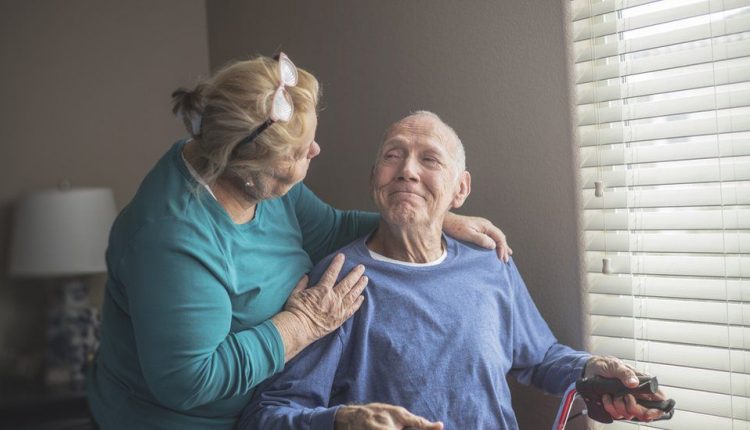 End-of-life care: Worry over support for those dying at home
People dying at home or in care homes might not be receiving the care and support they need, a charity has warned.
Marie Curie said it was particularly concerned that some have not had proper pain relief at the end of their lives.
It comes as figures show a rise in the number of people dying at home in all but three Welsh local authority areas.
The Welsh government said it had increased funding to support end-of-life care at home.
But Marie Curie's Lowri Griffiths said there were "real concerns" around the increase in people dying at home, and the inevitable pressure on those supporting them.
Cancer patient died 'without suitable palliative care'
Palliative end-of-life care support 'a struggle' to access
"During the pandemic we have provided £13.8m of additional funding to Welsh hospices,
which includes funding to support people receiving end-of-life care at home."
The head of policy and public affairs in Wales said if services were not prepared, people would feel "unsupported" and carers would struggle.
"That leads to the unfortunate case where people might die not getting the best pain relief or the support they need, and those carers go on to have very complex and deep grief as a result of the way their loved one died," she said.
Anna Townson, from Radyr, in Cardiff, cared for her mother Marian Jones at her home during her final months.
Marian was diagnosed with pancreatic cancer in November 2016 and recovered well from surgery, but in 2020 her illness returned and she moved in with Anna and her family.
Anna said they coped well for the first few months but said it was a "really difficult and stressful time".
"As her daughter, I often felt desperate wanting to help and make her feel better, but I'm not a trained nurse and I didn't have any knowledge in palliative care. It was emotionally draining," she said.
Anna believes the professional care and support they received was vital and gave the family strength.
"They were always there to support mum and to support us too," she said.
"It really saddens me that people aren't receiving the care and support they're entitled to, especially something as simple and basic as pain relief.
"Seeing a loved one suffering and in pain is just beyond me."
Figures from the Nuffield Trust show every area in Wales except Anglesey, Bridgend and Torfaen saw an increase in the numbers of people dying at home in 2021, compared with the five-year average for 2014-19.
The biggest rises in deaths at home per 100,000 people were 67% in Vale of Glamorgan (from 47.3 to 79.1), 50% in Cardiff (41.4 to 62), 44% in Swansea (56 to 80.7) and 41% in Merthyr Tydfil (61.2 to 86.1).
Studies estimate that by 2040 the total number of deaths in Wales and England will rise by a quarter to 628,659 a year.
If the recent increase continues, then 160,000 more people in Wales and England will need palliative care by 2040 – 42% more than in 2014.
Chronic illnesses such as cancer and dementia are projected to be behind the rise.
Ms Griffiths said challenges with workforce and resourcing needed to be looked at in health and social care, and different ways of delivering care needed to be found.
"It's vitally important because at the end of the day everybody is going to die and we want to make sure that people are able to die well in their place of choice," she added.
A Welsh government spokeswoman said: "We recognise how important it is for individuals and their families to have access to high-quality palliative care and we expect all health boards to provide this.
"During the pandemic we have provided £13.8m of additional funding to Welsh hospices, which includes funding to support people receiving end-of-life care at home."