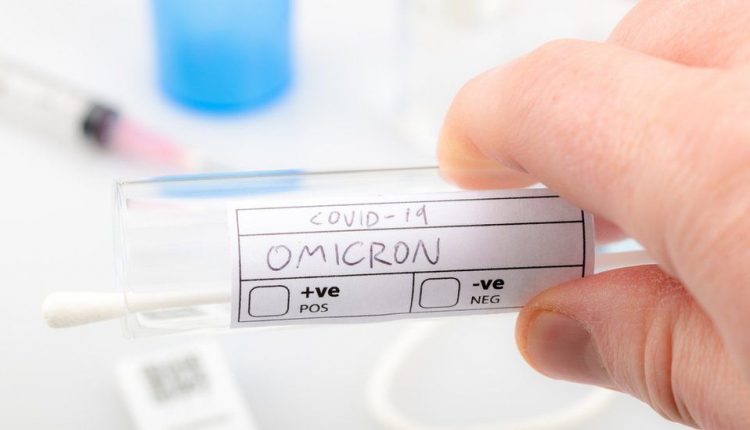 Covid in Scotland: Six cases of Omicron variant identified
Six cases of the new Covid Omicron variant have been identified in Scotland.
Some of the people identified have no travel history and have caught the virus variant in the community.
The Scottish government said four cases have been found in Lanarkshire and two in the Greater Glasgow and Clyde area.
Contact tracing is taking place to establish the origin of the virus and find anyone else they have come into contact with in recent weeks.
All close contacts of suspected Omicron cases will be advised to self-isolate for 10 days, regardless of their vaccination status.
Health Secretary Humza Yousaf said it was a "worrying time" for the six people with the new variant.
Omicron was first reported in South Africa, but cases have been detected in countries across the world, including Australia, Germany, Israel and Hong Kong.
Ten countries in southern Africa have been added to the travel "red list" in response, while it is expected that all overseas travellers arriving into the UK from 04:00 on Tuesday will need to take a PCR test.
How worrying is the new Covid variant?
Omicron: Will new measures against variant work?
Deputy First Minister John Swinney told BBC's Good Morning Scotland: "On some of the cases we are aware that there is no travel history involved.
"So what that tells us is that there must be a degree of community transmission of this particular strain of the virus."
This "opens up further challenges" for interrupting the spread of the virus, he said.
We can all help;
1) get vaccinated
2) test regularly
3) follow hygiene guidancehttps://t.co/Rdrh17GS3C for more info. https://t.co/MXUJjEDyk5

— Jason Leitch (@jasonleitch) November 29, 2021
The BBC is not responsible for the content of external sites.View original tweet on Twitter
If the variant proves to be "more transmissible than previous incarnations", Mr Swinney said the Scottish government may have to take measures to increase physical distancing.
But the minister said it was too early to say whether Christmas plans would have to be reconsidered.
"We are in a much stronger position because of the vaccination that we have within our society," he added.
"Members of the public have taken part tremendously in the vaccination programme, so we do have very high levels of protection within the population.
"It's what we need to do beyond that is relevant for the next period ahead."
'Reinfection risk'
The UK government has tightened the rules on the wearing of face coverings in England, bringing them closer into line with those in Scotland – where there is also some use of vaccine passports for large events, and more stringent advice on home working.
The new travel restrictions were announced on Saturday as the World Health Organization designated Omicron a "variant of concern."
Early evidence suggests the new Omicron variant has a higher reinfection risk.
The first UK cases – picked up from analysis of recent positive Covid tests from all around the country – were confirmed on Saturday in Essex and Nottingham.
The third case identified on Sunday came from a visitor who spent time in the Westminster area of London, although the person is no longer in the UK, the Health Security Agency said.
An urgent meeting of health ministers from the G7 group of nations will be held later "to discuss the developments on Omicron", the UK Department for Health said.
Professor Anthony Harnden, deputy chairman of the Joint Committee on Vaccination and Immunisation (JCVI), told BBC Breakfast it was "almost inevitable" that there would be many more cases.
"The key question is whether this virus has a transmission advantage over the Delta, which is the prevalent virus at the moment.
"Vaccines can do heavy lifting, but they can't do all the lifting and actually social distancing measures, that's wearing face masks, distancing, ventilation… and measures like that are important as well."
He said they would have to "wait and see" whether Omicron takes a hold in the UK and how big a problem it was.
"It's obviously a worrying development," he added, "but I don't think there's any need for anyone to panic. What they do need to do though is get vaccinated."
He said it would be "sensible" to cut time between doses and extend boosters to the under-40s.
'Enhanced contact tracing'
First Minister Nicola Sturgeon and Gregor Smith, Scotland's chief medical officer, will give an update on the situation in a briefing at 10:30.
Then, in a virtual address to the SNP conference, Ms Sturgeon is expected to urge people to "pull together" over the winter months to stop spread of the Omicron variant.
By doing so, she is due to say, there is a greater chance of a more normal Christmas.
Mr Yousaf urged people to get their next dose of the Covid-19 vaccine and reiterated the government advice to prevent the spread of the coronavirus:
Wear a face covering on public transport and in all indoor settings for food and retail;
Open windows especially if you have people visiting at home;
Washing hands regularly and thoroughly:
Work from home where possible;
Take regular lateral flow tests – especially before mixing with others outside your household.
"All will receive expert help and support and Public Health Scotland will undertake enhanced contact tracing in all cases," he said.
"This will help establish the origin of the virus and any further individuals they have come into contact with in recent weeks."