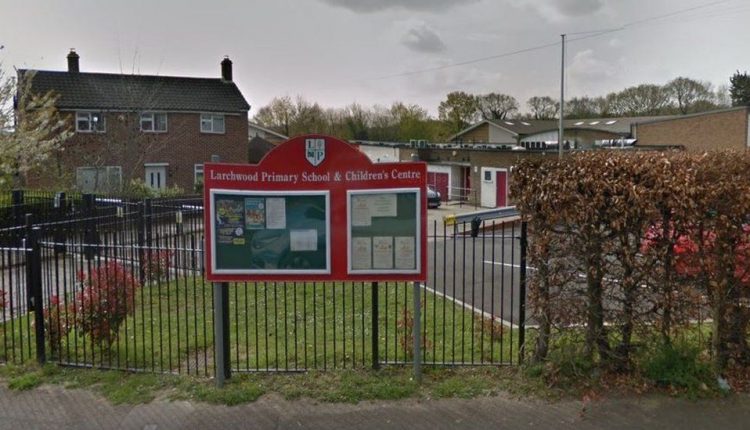 Covid-19 Omicron variant case linked to Brentwood primary school
One of the first UK cases of the Omicron Covid-19 variant has been linked to a primary school in Essex.
Following further contact tracing of a case that emerged in Brentwood, there was a confirmed link to Larchwood Primary School in Pilgrims Hatch, Essex County Council said.
It said specialist testing was being made available for all staff and remote learning introduced for one class.
The case has already been linked to a church and a branch of KFC in the town.
Following further contact tracing of the known Omicron Covid-19 case in Brentwood, it has been confirmed that there is a link to Larchwood Primary School based in Pilgrims Hatch. pic.twitter.com/bkwdyp4sZX

— Essex County Council (@Essex_CC) November 29, 2021
The BBC is not responsible for the content of external sites.View original tweet on Twitter
The council said in a tweet: "We appreciate that this is an unsettling time for parents, pupils and the school community but we take the time to remind everyone that this is a precautionary measure."
The council had already announced that anyone who attended Trinity Church in Brentwood on 21 November and KFC in the High Street on 19 November should take a PCR test.
A statement from the church said while the person infected with the new variant did not attend its service, a person connected with them had done so.
Mobile testing units have been deployed to the area.
Dr Mike Gogarty, the council's director of public health, said: "The aim is to understand what, if any, spread of the new variant within the local community may have occurred and limit the opportunity for any further spread. Robust contact tracing has taken place following identification of the single case.
"While this work takes place, it is important that everyone takes sensible precautions – get a PCR test if you have symptoms, isolate when asked, wear a face covering in crowded and enclosed spaces, ventilate rooms, get your vaccine and boosters as soon as you can.
"It is important to break the chain of transmission as quickly as possible, which is the aim of the additional testing. The quickest way of doing this is for individuals who test positive to self-isolate immediately.
"Even if you are feeling well, I would urge everyone to play their part to keep their community safe."
Chris Hossack, leader of Brentwood Borough Council, told BBC Essex: "Brentwood is a small town, people need to be vigilant; it is all about getting tested.
"As we approach Christmas, people are really hoping that this doesn't become a disruptive thing or go into severe measures. At the moment, the government are being cautious about what they are advising us to do."
The case in Brentwood was linked to a single case in Nottingham involving international travel to southern Africa, the authority said.
It asked that anybody who had visited the church in Pilgrims Hatch on Sunday, 21 November and had Covid-19 symptoms, should book a PCR test and "must isolate until they receive a negative result".
The same advice applied to staff, customers and delivery workers who were at the KFC between 13:00 and 17:00 GMT on Friday, 19 November.
Those without symptoms should still get a PCR test, but do not need to self-isolate unless their test is positive.
They can visit two mobile testing units for drive-through appointments only, which will be open between 09:00 and 16:00 from Monday at Basildon Cherrydown car park – which can be booked via the national booking system – and at the Brentwood Centre, in Doddinghurst Road, which does not require pre-booking.
Those who test positive, have any symptoms, or are contact-traced following contact with someone who tests positive, should self-isolate immediately.
Scott Parker is originally from Great Hallingbury, near Stansted, but now lives in Cape Town, South Africa.
He said that just a few weeks ago he made his first visit home to the UK in two years to spend time with friends and family.
Back in Cape Town, his plans for Christmas were thrown into disarray by the new variant.
"Family and friends were due out here [in South Africa] this Christmas but we've had to make alternative arrangements," he said.
"We were also due to go out overseas for a holiday and again with borders being shut we've had to make alternative arrangements, which has left everybody incredibly frustrated.
"We've done all we can in this country to adhere to rules and regulations.
"It is incredibly frustrating now that we are [in the position] we are."