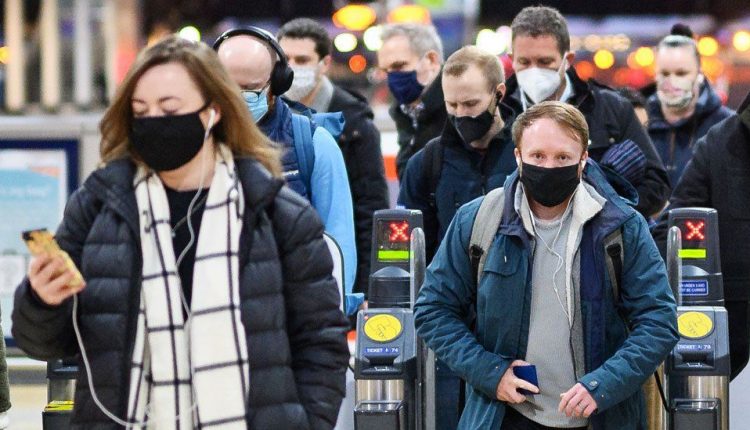 Covid: Omicron may require 'very stringent response', say Sage scientists
The impact of the Omicron variant on the UK is "highly uncertain" but may require a "very stringent response", government advisers have said.
The BBC has seen leaked minutes of a meeting of the Scientific Advisory Group for Emergencies held on Monday.
They said officials should prepare now for a "potentially significant" wave of infections while data on the variant is being collected and analysed.
The government said it will take further action if necessary.
The prime minister said on Tuesday that officials would be "throwing everything" at a campaign to roll out booster jabs to all adults this winter.
The programme was expanded in response to the emerging Omicron variant, which scientists believe could be more infectious than the existing Delta variant of coronavirus.
"We continue to monitor the situation closely and will not hesitate
to take further action if necessary."
Omicron wave 'highly uncertain'
More than 30 scientists attended a video conference on November 29, led by the government's chief scientific adviser Sir Patrick Vallance and chief medical adviser Chris Whitty.
Sage meetings are often designed to advise officials and ministers about the possible path of the pandemic in certain circumstances rather than offer up concrete predictions.
The minutes, which have not yet been published but have been seen by the BBC, say that it is "highly likely" that Omicron can escape immunity caused by previous infection or vaccination "to some extent".
The existing Delta variant is already more resistant to vaccines than the original version of the virus found in Wuhan.
The advisers say that there is not currently any evidence of widespread community transmission of Omicron in the UK, as there has been in parts of South Africa. They say the impact on a country like the UK remains uncertain as it is different in terms of age structure, the numbers previously infected with coronavirus and the level of vaccination coverage.
The scientists believe that booster jabs are likely to provide protection against severe disease, hospitalisation and death from most variants in the short term.
But they note: "Any significant reduction in protection against infection could still result in a very large wave of infections. This would in turn lead to a potentially high number of hospitalisations even with protection against severe disease being less affected."
Although the size of any future wave remains "highly uncertain", the scientists say it may be of a scale that requires "very stringent response measures" to avoid unsustainable pressure on the NHS.
Omicron: How are Covid rules and booster jabs changing?
How worrying is the new Covid variant?
What are the UK's new travel rules?
Where do you have to wear masks now?
The minutes make it clear that it is too early to know how ill the Omicron variant will make those infected or how that might vary by age. They say the first indications of the likely impact on vaccines should come from laboratory studies over the coming weeks.
But the advisers note: "It is important to be prepared for a potentially very significant wave of infections with associated hospitalisations now, ahead of data being available."
They say that the earlier measures to reduce transmission are introduced, the stronger they are and the wider their geographical coverage, the more effective they will be.
"The situation could develop quickly over the coming weeks and decision makers may need to act while there is a high level of uncertainty including the potential need for stringent response measures," they say.
The government said it has already put in place measures to protect public health since Omicron was first identified including travel restrictions on countries in southern Africa, stronger rules on self-isolation for close contacts and a new mandate on face coverings in England.
A spokesperson for the Department of Health and Social Care said: "On top of this we are speeding up our vaccination programme by offering all adults in England a booster jab by the end of January, halving the gap between second doses and boosters, and offering second jabs to 12-15 year olds."
"We continue to monitor the situation closely and will not hesitate to take further action if necessary."