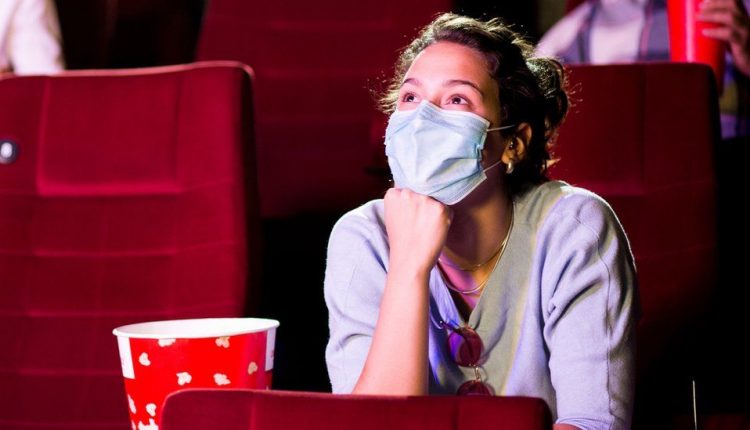 Covid-19: Face masks required in more indoor venues in England
Face coverings are now compulsory in most indoor venues in England, under measures to tackle the Omicron variant.
The new rules require people to wear masks in locations including theatres, cinemas, places of worship, museums and indoor sport stadiums.
Further changes start next week under the government's move to so-called Plan B Covid restrictions.
But businesses have expressed concerns about the impact of Covid passes and work from home guidance.
Meanwhile, there is opposition from some Tory backbenchers ahead of a vote on the controls in the Commons next week, with former cabinet minister Andrew Mitchell describing the mood in the party as "sulphurous".
Health Secretary Sajid Javid said the new rules will buy time against the Omicron variant amid a "credible risk" of a crisis in the NHS.
"I hope between now and Tuesday we'd get a lot more information about Covid passports."
A further 249 cases of the Omicron variant were recorded in the UK on Thursday, taking the total number to be identified to 817.
The new places where you'll be asked to wear a mask
What's the new working from home guidance?
Where will I need a Covid passport and how do I get one?
Mr Javid said the evidence was that Omicron was doubling every 2.5 or three days, which could mean a million infections by the end of the month as it takes over from the Delta variant in the UK.
Other nations of the UK – which are in charge of their own Covid rules – have already brought in stricter restrictions similar to Plan B.
The requirement to wear a face covering was re-introduced in shops and on public transport at the end of November, as a response to the emergence of the Omicron variant.
The updated rules mean the public, and staff in public facing areas, will also now be required to wear face coverings in community centres, members clubs, libraries, bingo halls, snooker, halls, casinos, skating rinks and bowling alleys.
Similar rules on masks in indoor settings have already been introduced in other parts of the UK.
In England they will still not be needed in hospitality settings such as pubs or restaurants, nor in venues where it is "not practical to wear them", such as gyms.
From Monday, people will be asked to work from home where possible
From Wednesday, the NHS Covid Pass – proving vaccination status or a negative lateral flow test – will also be required for visitors to nightclubs, indoor unseated venues with more than 500 people, unseated outdoor venues with more than 4,000 people and any event with more than 10,000 people
People will be exempt from showing a Covid passport when attending religious worship, weddings and funerals.
But the Night Time Industries Association has said Covid passes could have a "devastating impact" in the "crucial" pre-Christmas period for clubs – while pubs and restaurants have warned they face a collapse in demand at their busiest time of year due to the work-from-home guidance.
Dame Rosemary Squire, joint chief executive of West End theatre operator Trafalgar Entertainment, welcomed the new rules on mask-wearing in venues as "further reassurance to customers, performers and venue staff" but suggested the restrictions could "amplify concern" for some customers.
While a substantial rebellion among Conservative backbench MPs is expected when the plans come to be voted on, they are likely to pass with support from Labour.
Nonetheless, former Justice Secretary Robert Buckland said the government needed to be on a "mission to explain" the case for Covid passes ahead of the Commons vote.
"I hope between now and Tuesday we'd get a lot more information about Covid passports," Mr Buckland told the BBC's Newscast podcast.
He said he was broadly supportive of the move to Plan B in England, but Covid passports were "a bit more of a vexed question".