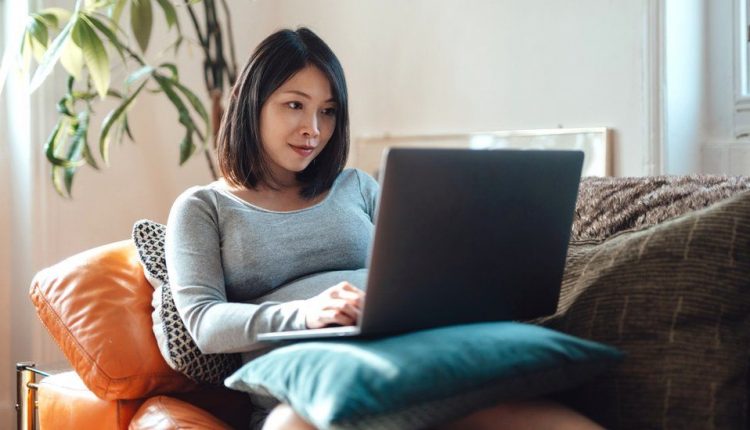 Covid: Work-from-home guidance reintroduced in England
People in England should now work from home if they can, as part of the government's Plan B guidance to curb the spread of Omicron.
The change brings England in line with Scotland, Wales and Northern Ireland.
But some businesses in city centres fear the move means they will lose customers in the run up to Christmas.
Rules on face masks have already been tightened, and Covid passes will be required to get into nightclubs and other large venues from Wednesday.
Despite the new rules, Boris Johnson said on Sunday the UK faced an "Omicron emergency", with a "tidal wave" of the new variant coming.
"Once we get beyond Christmas, you're going to find that city centre businesses go back to where they were at the beginning of the Covid problem in March 2020."
In a televised address, he said boosters would be offered to everyone over 18 in England from this week, with the aim of giving a jab to everyone who wants one by the end of the month.
PM sets new booster goal over 'Omicron tidal wave'
Firms warn of 'devastating' impact of new rules
UK Covid alert level raised due to Omicron spread
Where do I have to wear a mask now?
Extra measures – known as Plan B – were announced last week amid growing concern over Omicron, which is spreading rapidly and is expected to become the dominant variant in the UK this week.
MPs are expected to vote on the new measures on Tuesday.
One of the three votes will be on Covid passes, and could be opposed by about 60 Tory MPs. However, all three votes are expected to pass as Labour is backing the government.
It comes after a tough fortnight for Boris Johnson, who faced questions about several Christmas parties reportedly held by Downing Street last Christmas, despite Covid rules banning them. An inquiry has been launched into four alleged gatherings, including one in the Department for Education.

Today's change of advice will frustrate some companies keen to keep their staff in the offices and many city centre businesses may also despair that they will lose customers in the build up to Christmas.
With hospitality still open, many restaurants, bars and pubs will hope that they can still persuade the public to make the trip to town.
Other companies will find the change less jarring, returning to at home ways of working that are already tried and tested; many workers were not back full time in the office anyway.
The question that's likely to be in many people's minds as they commute the few paces to their laptop today will be how long will they be working from home this time.

Just under 36% of staff in Britain did some work from home in 2020, according to the Office for National Statistics.
By the last week of November, many people were yet to go back to the office full-time – but seven in 10 travelled to work at least once.
The Treasury said it was acting early to control the spread of the virus while avoiding unduly damaging economic and and social restrictions – and that measures like business rates relief would help companies into next year.
But British Chambers of Commerce director Shevaun Haviland has warned that retail and hospitality businesses, which she says are the most exposed to the new measures, are not being sufficiently supported by the government.
Ms Haviland has written to the chancellor to request a return to charging a reduced 5% rate of VAT for hospitality and tourism businesses, 100% business rates relief for the retail sector, and grant funding to help the hardest hit firms.
And Sir John Timpson, chairman of the shoe repair and key-cutting chain, also warned the survival of city centre businesses was being threatened by the government's work-from-home guidance.
Sir John told the BBC the arrival of Omicron had already led to a 5% drop in business over the last couple of weeks, and said that could easily turn into a 10% fall by the new year, when people would normally return to work after a Christmas break, but may now stay at home.
"Once we get beyond Christmas, you're going to find that city centre businesses go back to where they were at the beginning of the Covid problem in March 2020," he said.