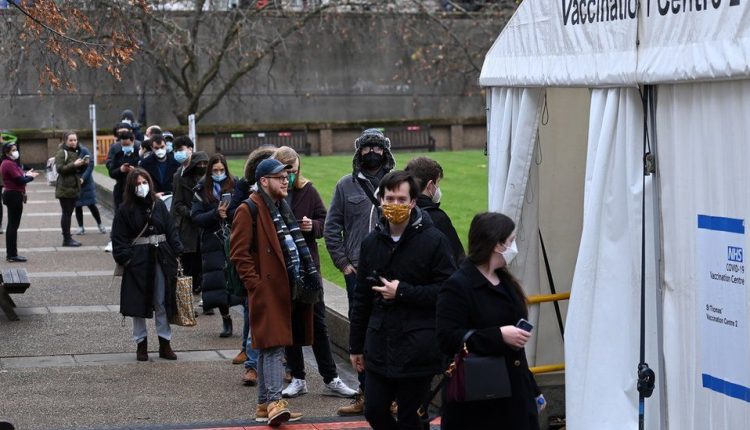 Covid: UK in a 'race between virus and vaccine' over Omicron, says Sajid Javid
The UK is in a "race between the virus and the vaccine" over the spread of Omicron, Sajid Javid has warned.
The health secretary said the NHS would be focusing on urgent needs and vaccinations for a few weeks, with non-urgent treatments possibly postponed.
Ten people in England are in hospital with the Covid variant but no deaths have yet been reported, Mr Javid said.
Over-18s in England will start to be offered a booster dose from this week, Prime Minister Boris Johnson said.
What do the Covid alert levels mean?
When will I get my booster?
Wales: New Covid restrictions likely 'in next few weeks'
"These decisions are not easy, but at any one time there is only limited capacity in the NHS."
Mr Javid said the new highly-transmissible Covid-19 variant Omicron was spreading at a "phenomenal rate", with cases doubling every two to three days.
"We are clearly once again in a race between the virus and the vaccine", he told BBC Radio 4's Today programme.
He said primary care services and GPs will be focussing only on the booster programme and "urgent" needs, with non-urgent appointments facing being delayed to the new year.
Asked about people seeking cancer treatment, he said they would "completely unaffected" because those are urgent appointments and people will still be able to be seen within two weeks.
However, he added hospitals would be able to postpone elective surgeries, like hip or knee operations, until the new year to "get a lot more booster jabs done".
Mr Javid said: "These decisions are not easy, but at any one time there is only limited capacity in the NHS."
In a TV address on Sunday evening, Prime Minister Boris Johnson confirmed booster jabs would be offered to everyone over 18 in England from this week, in response to an expected "tidal wave of Omicron" over the winter.
A new target has been set to give boosters to all adults who want one by the end of the month.
The UK's Covid alert level has been raised to level four – which means a high or rising level of transmission – for the first time since May due to the spread of Omicron.
Early data suggests that getting a third booster dose gives around 70% to 75% protection against symptomatic infection against Omicron.
More than half a million booster jabs and third doses were given in the UK on Saturday – the second day that has happened since the booster rollout began.
The new booster target means people aged 18 and over in England will be able to get their third jabs from this week – as long as it has been three months since their second dose.
People aged 30 and over can already book an appointment in advance using the online service, from two months after their second dose. Over-18s in this position will be able to book from Wednesday.
Some walk-in appointments will be available from Monday for eligible over-18s, depending on location.
Scotland is also setting the same target on boosters and aiming to offer all adults a booster by the end of the year. Northern Ireland said it is stepping up its rollout and hopes to get as many people as possible boosted by then as well.
A further 1,239 new cases of Omicron were announced in the UK on Sunday, bringing the total number of UK Omicron cases to more than 3,000 – although the real number is estimated to be much higher.
Earlier, the rules on self-isolation were updated again in England. From Tuesday, fully vaccinated people who come into contact with a Covid will not need to automatically self-isolate – but instead take daily lateral flow tests for seven days.
It is the latest rule change, after the UK government brought in new Plan B measures – including Covid passports for some crowded events from Wednesday and asking people to work from home from Monday. Both Wales and Scotland have said new rules could come in the next few weeks.