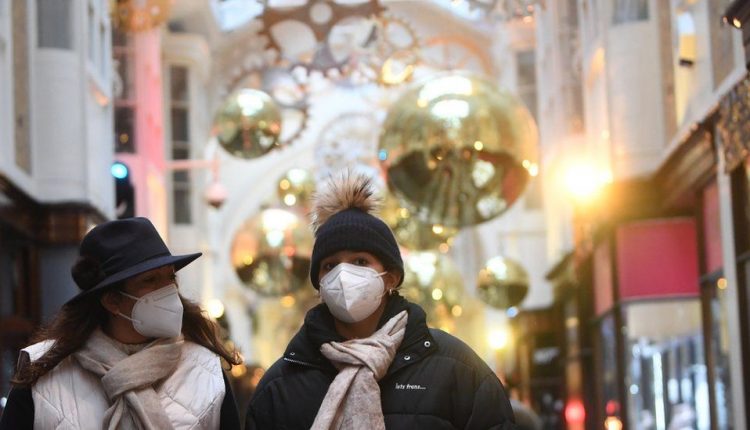 Covid: Ministers watch data as studies say Omicron risk lower
The UK government says it is monitoring Covid data after early studies found the Omicron variant may cause milder illness than the Delta variant.
Scientists said the findings are good news but warned a big wave of cases could still overwhelm the NHS.
The UK reported more than 100,000 new daily infections for the first time on Wednesday.
New rules have been set out in Wales and Northern Ireland but no further curbs have been announced in England.
Boris Johnson has ruled out any changes before Christmas, and it is not expected that there will be an announcement of post-Christmas rules before then.
That will leave England out of step with the other nations of the UK – which have all announced further measures to kick in from Boxing Day.
"We've got more than 2,800 people every day who are having to wait more than 30 minutes in the back of an ambulance before we can admit them into hospital because we're so busy."
The prime minister has warned the variant "continues to surge across the country faster than anything we have seen before".
In an article for the Sun he urged people to take "extra special care" to protect themselves and their families against Covid this Christmas.
Daily UK Covid cases top 100,000 for first time
Vulnerable five to 11-year-olds should get the jab
Omicron peak could see 'one in six' NHS staff off
Vaccine rollout 'a stain on our soul' – Gordon Brown
Early data from South Africa and studies in England and Scotland published on Wednesday suggest Omicron infections may be milder and lead to fewer hospital admissions.
Analysis by researchers at Imperial College London found around a 40% reduction in the risk of being admitted to hospital for a night or more compared with Delta, while an Edinburgh University study suggested there was a 65% lower risk of being hospitalised with Omicron – but it was based on only a few cases.
In South Africa, a study suggested Omicron patients were 70-80% less likely to need hospital treatment. However, it suggested there was no difference in outcomes for the few patients that ended up in hospital with Omicron.
Imperial College epidemiologist Prof Neil Ferguson said the research was "clearly good news to a degree".
However, he warned the reduction was "not sufficient to dramatically change the modelling" and the speed that Omicron is spreading could still mean hospitalisations "in numbers that could put the NHS in a difficult position".
While the analysis showed evidence of a moderate reduction in the risk of hospitalisation from the Omicron variant, he said this appeared "to be offset by the efficacy of vaccines against infection".

Omicron is milder than Delta, so can we all relax?
It's clearly good news if you test positive, but it's also important to remember some basic maths.
The pressure on hospitals will be a combination of the severity of the variant and the number of people infected.
If Omicron is half as severe, but we have twice the number of cases – then we're back where we started.
And there is a lot of Covid around at the moment. Daily cases peaked at 68,000 last winter and we've already topped 106,000 now.
There are also concerns that the benefit of Omicron being milder is eroded by more people being susceptible as the variant bypasses some immunity.
Then there is the pressure on hospitals if large numbers of staff have to isolate.
So while the severity data is welcome news, ministers will also have to closely monitor the trends in the number of cases.

Dr Jim McMenamin, the national Covid-19 incident director for Public Health Scotland, said the University of Edinburgh's findings were "a qualified good news story", but that it was "important we don't get ahead of ourselves".
He said a "smaller proportion of a much greater number of cases" could still mean a "substantial" number of people may experience severe Covid infections which could lead to hospitalisation.
And Prof Azra Ghani, chair in infectious disease epidemiology at Imperial, warned more data was needed on the impact of Omicron on older people.
She told BBC Radio 4's Today programme: "Omicron has really been circulating in a younger population and I think the big concern is that over this Christmas period there's going to be a lot more intergenerational mixing, and we don't know yet what that severity pattern might look like in the oldest age groups."
The UK Health Security Agency is expected to publish early real-world data on Omicron later, which could give further indications of the variant's severity.
But regardless of that data, the NHS is already under significant pressure and busier than last winter's peak, says Chris Hopson, chair of NHS Providers, which represents hospital trusts.
He told Today: "We are busier at this time of year than we have ever been before. Our bed occupancy rate is 94.5%, compared to last year's 89% – that's a huge difference.
"We've got more than 2,800 people every day who are having to wait more than 30 minutes in the back of an ambulance before we can admit them into hospital because we're so busy."
From Sunday nightclubs in Northern Ireland will have to close and from Monday further restrictions will come into force, including a return to table-service only in hospitality venues.
Also on Sunday, Wales is returning to the rule of six in pubs, cinemas and restaurants.
The number of military personnel supporting the Welsh Ambulance service will nearly double in the new year, with another 183 troops to help out from 4 January – taking the total to just over 400.
The chief executive of NHS Wales, Judith Paget, said almost a fifth of healthcare staff could be off work at the peak of the Omicron wave.
In Scotland there will be limits on the size of public gatherings for three weeks from Sunday, and from Monday new restrictions will be placed on pubs, restaurants and other public indoor spaces – including a one metre distancing rule between groups, and table service where alcohol is served.
Across the UK, the booster programme continues, with 968,665 doses given on Tuesday. The UK government has consistently said that there is a race on between the vaccine and the virus, and aims to have offered all adults in England the chance to book a booster by the end of the year.
UK government vaccine advisers said on Wednesday that vulnerable children aged five to 11 should be offered a low-dose Covid vaccine and that some older children should also be offered a booster in response to Omicron. A decision on whether to go ahead with these has not yet been made.
Meanwhile, former prime minister Gordon Brown said the failure to distribute vaccines to poorer countries was a "stain on our global soul" and that the virus would "come back to haunt" every country without a push to get the whole world vaccinated.
The World Health Organization (WHO) has also warned that "no country can boost its way out" of the pandemic.
The rush for wealthy countries to roll-out the additional Covid vaccine doses is making it harder for other nations to get hold of the jab and was "likely to prolong the pandemic", WHO director-general Dr Tedros Adhanom Ghebreyesu said.