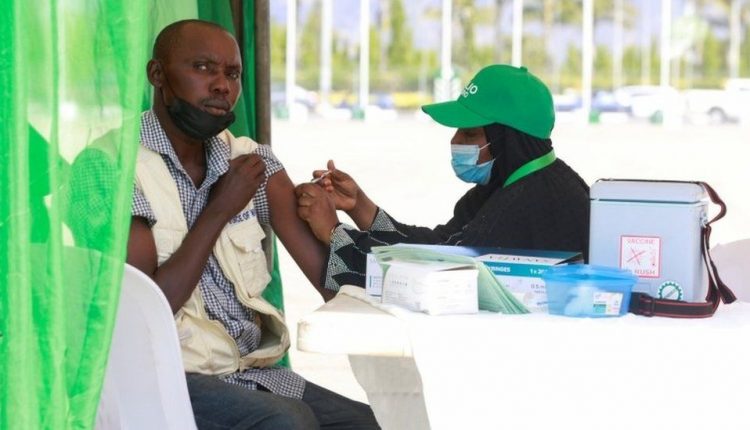 Global Covid vaccine rollout a stain on our soul – Brown
Former prime minister Gordon Brown says the failure to distribute vaccines to poorer countries is a "stain on our global soul".
He said people were realising coronavirus would "come back to haunt" every country, without a push to get the whole world vaccinated next year.
So far, eight billion Covid vaccines have been administered worldwide.
But of those, the vast majority have been given in high and middle-income countries.
Vaccinations: More than 50 nations miss target set by the WHO
Omicron variant: Are low vaccination rates in South Africa a factor?
Brown: £22bn for Covid vaccines 'small price to pay'
"If we don't, we will continue to see the virus change and threaten us in ways that will bring us closer to the beginning rather than closer to the end."
The World Health Organization (WHO) says 98 countries have not yet met the target of vaccinating 40% of their populations.
About three-quarters of the population have received a vaccine in the UK, US and France, and 80% in Japan. In Nigeria only one in 20 people has been jabbed, and in Ethiopia the figure is just 8%.
Only one in four African healthcare workers has been vaccinated.
Some have linked low vaccination rates to the emergence of new coronavirus variants such as Omicron, first identified in South Africa and now spreading rapidly across the world.
In an interview with the BBC World Service, Mr Brown said the uneven distribution of Covid vaccines "is one of the greatest policy failures of our times" and had been caused by wealthy countries hoarding and stockpiling vaccines.
He predicted another five million people could die from the virus worldwide if better vaccine access was not achieved soon.
Mr Brown, who was prime minister from 2007 to 2010, said: "It's really a stain on our global soul and it affects us all – because I think people are beginning to realise that if we allow the disease to spread in poor countries and the virus mutates, it comes back to haunt even the fully-vaccinated."
He argued it was an achievable task, saying: "We have the technology. We have the expertise and we're producing 1.5 billion vaccines now a month. We could get them out to people and we will all suffer if we don't do this."
Mr Brown said he hoped world leaders would come together and agree to make the distribution of vaccines a priority at the start of 2022.
He also wants more funding for fragile healthcare systems, and better distribution of testing equipment and treatments for Covid-19.
Mr Brown said that, as a father of teenage boys, he felt sorry for the young who had had a year or two taken out of their lives.
Ensuring fairer access to vaccines, he argued, would be well worth it in economic terms given the trillions of dollars at stake in global trade – as well as improving everyone's mental health.
On Wednesday, a top WHO official said she believed the world was still in the "middle" of the pandemic.
Dr Maria Van Kerkhove said: "Getting vaccines to those who need them most must be a priority for every single government – not just some.
"If we don't, we will continue to see the virus change and threaten us in ways that will bring us closer to the beginning rather than closer to the end."