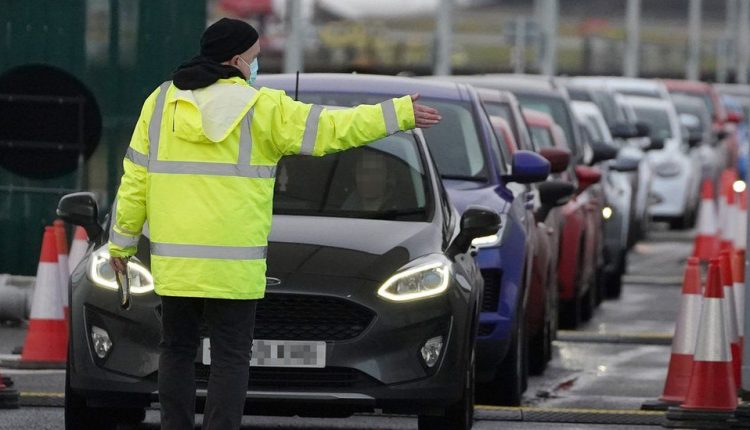 Covid in Scotland: Cases hit record high of 20,000
A further 20,217 people have tested positive for Covid-19 in Scotland, the highest daily figure since the pandemic began.
The official figures are the first to be published in 2022, and overtake the previous high of 15,849 positive results reported on 29 December.
The Scottish government said there had been delays in results being reported due to the high volume of tests.
It said turnaround times had also been impacted by the holiday weekend.
No figures have been available since 31 December but headline statistics were released on Monday.
The figures showed that of the 65,860 tests that reported results on Monday, 34.9% were positive.
The daily data for 1 and 2 January was also published on Monday – it showed 17,065 new cases were reported on 1 January and 14,080 were reported for 2 January.
The Public Health Scotland statistics also showed 1,031 people were in hospital – the highest since September last year.
While there is evidence that fewer people become seriously ill with the new strain, the large numbers of infected people combined with staff absences could still put the NHS under severe pressure.
In terms of vaccinations, figures showed 4,383,212 people have received their first dose, 4,017,051 have received their second dose and 2,992,583 had received a booster.
More detailed data will be released on Wednesday.
The Scottish Parliament will hold a virtual meeting of MSPs that day at 14:00 for an update from First Minister Nicola Sturgeon on the Covid situation in Scotland.
'Crunch week' to determine impact of Omicron
PM: Hospitals under pressure but Covid plans unchanged
NHS Grampian's head of health intelligence Jillian Evans previously said data from her region suggested cases were still doubling every three days.
She said it would be a "crunch week" for understanding the variant's impact.
Meanwhile the Scottish government's Education Secretary Shirley-Anne Somerville said officials were paying "close attention" to the figures, and that all restrictions were kept under constant review.
Ms Somerville added everyone should continue to limit their contacts and follow the recommended safety precautions.
"Although the numbers are high today, and obviously that's a concern, we're not powerless in this and there are things that everyone can do to play their part in ensuring that we keep the numbers as low as possible," she said.
Ahead of the return to school, Ms Somerville urged pupils and staff to take a lateral flow test twice a week.
She also encouraged young people to get vaccinated when they are eligible. Drop-in vaccinations are now available in some areas for 12 to 15-year-olds, and they are being encouraged to get a second dose of the vaccine if at least 12 weeks have elapsed since their first jab.
NHS Tayside said it had had to draft in extra vaccinators for Monday and Tuesday due to increasing demand across all its drop-in vaccination sites.
The board said it was "really encouraging" to see so many people coming along to be vaccinated, but asked people to be prepared to wait if necessary.