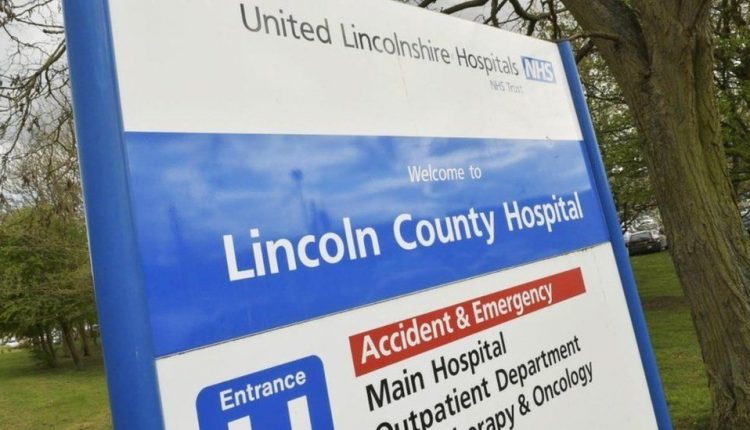 Covid: Lincolnshire hospitals declare 'critical incident' over staff shortages
A critical incident has been declared at four Lincolnshire hospitals because of staff shortages due to Covid-19.
United Lincolnshire Hospitals NHS Trust said it was taking "additional steps to maintain services" at all its hospitals in Lincoln, Boston and Grantham.
The trust's medical director, Dr Colin Farquharson, said there were "significant staffing pressures due to absence related to Covid-19".
But he said essential services "remain fully open".
Last month, visiting restrictions were brought in at Lincoln County, Grantham and District, Pilgrim Hospital Boston and County Hospital Louth to slow the spread of the new Omicron variant of coronavirus.
In a statement, Dr Farquharson said: "As a result of significant staffing pressures due to absence related to Covid-19, we are having to take additional steps to maintain services.
"Our staff continue to work exceptionally hard and we would like to reassure our patients and the public that in spite of the challenges faced, essential services remain fully open for anyone who needs them, so people should continue to come forward for care."
He added people could "reduce pressure on health services" by getting a booster vaccine.
BREAKING: A very serious situation at hospitals across Lincolnshire tonight as @ULHT_News declares a 'critical incident' over "extreme and unprecedented" staff shortages. It says it is "unable to maintain safe staffing levels" leading to "compromised care" across its sites: pic.twitter.com/MqZyvezPDC

— Shaun Lintern (@ShaunLintern) January 2, 2022
The BBC is not responsible for the content of external sites.View original tweet on Twitter
According to a leaked email seen by The Sunday Times, the trust declared a critical incident on Saturday night "due to extreme and unprecedented workforce shortages".
It issued an "urgent appeal" for clinical and non-clinical staff to offer extra time supporting colleagues "over the next 72 hours".
It also asked staff to "consider limiting social contacts with people outside of work".
Chris Hopson, the chief executive of NHS Providers, which represents trusts, said a critical incident was "an indication of very serious pressure" at a trust which may "not be able to provide" a range of priority services.
Helen Monday, a nurse at the trust, said hospitals were busy but were "not being inundated with Covid-positive patients".
She said colleagues were "helping out as much as they can" as a result of absences caused by staff self-isolating due being in contact with someone who tested positive.
"Staff are absolutely exhausted," said Ms Monday.
"People are now getting to the point where they're burnt out."
Boris Johnson has warned "considerable" pressure on the NHS is likely to last for weeks to come and said it would be "folly" to think the pandemic was almost over.
He pledged to "make sure that we look after our NHS any way that we can".

The situation in Lincolnshire is not unique.
It is understood at least half a dozen NHS trusts have declared critical incidents over the past week.
That is not that unusual in the depths of winter – the NHS is entering what is traditionally its busiest time of year.
But the scale and nature of the challenges are, of course, unprecedented, with growing rates of staff absences due to Covid.
At this time of year the NHS can see around 1,000 admissions a day for all types of respiratory illness – and it is getting more than that just for Covid, and the number is rising.
A critical incident does not mean emergency care stops being provided, rather it is an alert to the wider system that the trust is under acute pressure and needs help, such as getting staff redeployed from elsewhere.
Many of these incidents will be over in a few days.