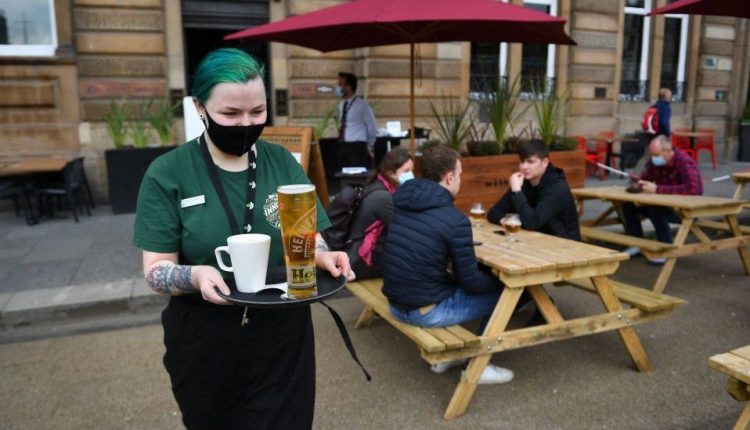 Calls for Scottish Covid rules to be eased further
The Scottish government has been urged to ease its Covid-19 restrictions more quickly, with Nicola Sturgeon due to update MSPs on the latest plans.
Some rules have already begun to change, with the limit on crowds at large outdoor events lifted on Monday.
But hospitality bosses and opposition MSPs have called for the "stranglehold of restrictions" to be ended swiftly.
The first minister has said she hopes to reduce curbs on indoor events and venues from 24 January.
On Monday, she said she was "cautiously optimistic that we're turning the corner" of the Omicron wave of the virus, while warning that there is still "acute" pressure on health services.
Crowd restrictions lifted for outdoor events
"It is time for the SNP to end its 'sticking plaster' policy culture and listen to the concerns of both businesses, the NHS and social care."
The Scottish government is taking a phased approach to lifting virus restrictions, with limits on attendance at outdoor events already having been dropped.
However, there are still crowd limits on indoor events and rules enforcing physical distancing and table service within hospitality venues, with ministers saying they want to monitor the latest data before confirming wider changes.
The Scottish Hospitality Group pointed to Scottish government research which suggested that the number of people visiting bars and restaurants has fallen while the number mixing in each other's homes has risen.
Spokesman Stephen Montgomery said "completely pointless" curbs on hospitality were "driving people to socialise at home" in an "uncontrolled environment".
He said: "It's incredible that yet again, hospitality is the last sector to open. We are facing a catastrophic future that will impact thousands of jobs.
"We ask that the Scottish government concentrates on working collaboratively with industry to protect our long-term economy, which will be essential to providing employment opportunities post-pandemic."
Public health expert Prof Linda Bauld told BBC Radio's Good Morning Scotland said the current situation is encouraging.
She said: "We have got enough data now to see what the true picture is and I think that the reduction in infection in the community appears genuine."
But the University of Edinburgh academic warned that a "big strain" remains on the NHS
She added: "It is important for us to recognise that we have as many people in hospital now with Covid – although not all there because of Covid – as we did in the spring of 2020. So we don't want that pressure to increase any more."
Ms Sturgeon will convene a meeting of her cabinet on Tuesday morning before informing MSPs of the latest plans in the afternoon.
She said: "Looking at the data right now, we've got reasons to continue to be cautiously optimistic that we're turning the corner in this Omicron wave.
"That's because people have responded magnificently, they've behaved in a way that's helped stem to some extent the transmission of Omicron and we took sensible, balanced, proportionate steps.
"So we're in a better position than I feared we would be before Christmas. But there's still a need for caution because the health service, for example, continues to be under very, very acute pressure."
The first minister has previously said that countries "cannot continually rely on restrictive measures to manage the virus", saying the government is looking for ways of working which are "much less disruptive to our lives".
However, she has also said that ministers have to consider whether measures like the vaccine passport scheme should be extended as a "necessary protection".
The Scottish Conservatives want almost all restrictions dropped from the end of January, calling for work from home guidance to be axed and self-isolation rules to be "gradually phased out".
Leader Douglas Ross has also called for an end to the vaccine certification scheme, saying that "protecting mental health, physical health and Scottish jobs is every bit as important as slowing the spread of Covid".
He added: "We believe the balance must now tip in favour of trusting the Scottish public to do the right thing and keep themselves and their families safe, as they have done throughout this pandemic.
"People across Scotland have learned to live with Covid. The success of Scotland and the UK's vaccine scheme means the public can now tackle Covid through their own actions, without the need for so many government restrictions."
Meanwhile, Scottish Labour have urged Ms Sturgeon to provide further support for the health service and small businesses.
Deputy leader Jackie Baillie said with case numbers "starting to stabilise" the government could "address the long running problems in the NHS and social care that have reached crisis point".
She said: "As Scotland starts to learn to live with Covid in the long term, we need both our NHS and our economy to be up to full strength.
"It is time for the SNP to end its 'sticking plaster' policy culture and listen to the concerns of both businesses, the NHS and social care."