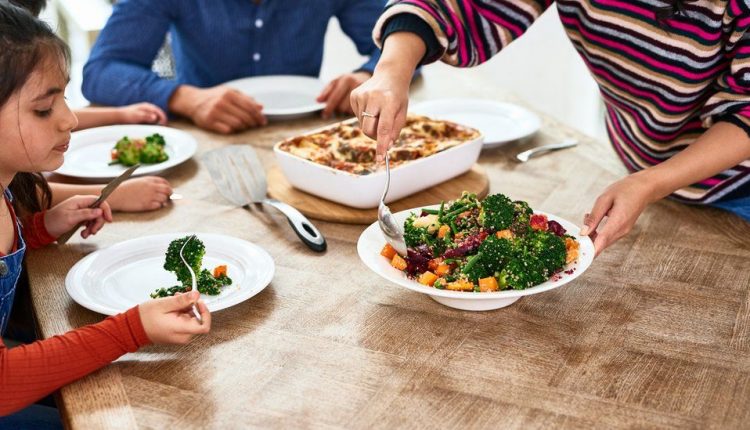 Covid: 'Fussy eaters' could have smell and taste disorder
Children who have become "fussy eaters" could be displaying a post-Covid smell and taste disorder, experts said.
Parosmia, a symptom where people experience strange smell distortions, is a well-documented side-effect in adults who have had Covid.
The University of East Anglia (UEA) and charity Fifth Sense have created a guide to recognising it in children.
"I expect there are a lot of parents at their wits' end and really worried," said Prof Carl Philpott of the UEA.
"In many cases the condition is putting children off their food, and many may be finding it difficult to eat at all."
"We're really keen to share more information on this issue with the healthcare profession so they're aware that there is a wider problem here."
'Has not been recognised'
The disorder, which he said affected an estimated 25,000 adults as a result of Covid, can mean food gives off an unpleasant odour or taste, such as rotten meat or chemicals.
Vitamin A treatment trial for Covid loss of smell
Since I had Covid, food makes me want to vomit
Covid smell loss made meat taste like petrol
Prof Philpott, a rhinologist and olfactologist at the university's medical school in Norwich, said he had begun to see teenage patients with parosmia for the first time in his career.
"It's something that until now hasn't really been recognised by medical professionals, who just think the kids are being difficult eaters without realising the underlying problem," he added.
"For some children – and particularly those who already had issues with food, or with other conditions such as autism – it can be really difficult."

Since coming down with Covid in September, Malisse Kafi, 11, found it difficult to eat or drink because everything tastes "like poo and rotten eggs".
His mum Dawn Kafi, from Liverpool, said food made him retch and gag. Within two months, he was rushed to hospital with dehydration, having lost 2kg (4.5lb).
"It was horrendous," she said.
"It was really hard to know what to do. We tried everything to try and get him to eat, cooking all his favourite foods, but it all just made him feel really sick."
Malisse was diagnosed with parosmia and given a steroid nasal spray, but it did not help and when in hospital he had to be fed via a tube.
"We had never heard of parosmia," Ms Kafi added.
"It has been absolutely heart-breaking to see him deteriorate; he stopped eating all together."
Malisse now has safe foods including salmon and Dairylea, but he was "extremely tired and cold all the time," his mother said, and had on-going health issues.

Duncan Boak of Fifth Sense, a charity for people affected by smell and taste disorders, said it had heard anecdotal evidence that children were really struggling with their food after Covid.
"We've heard from some parents whose children are suffering nutritional problems and have lost weight, but doctors have put this down to just fussy eating," he said.
"We're really keen to share more information on this issue with the healthcare profession so they're aware that there is a wider problem here."
The guide, put together by Prof Philpott and Fifth Sense, shows that parents can help by keeping a diary of safe foods and those that are triggers.
Children should be encouraged to try blander foods, to see what they can cope with or enjoy, and to try a soft nose clip while eating, to block out flavours.
The guide also advocates a simple "smell training" technique of sniffing at least four different odours twice a day for several months, to aid recovery.