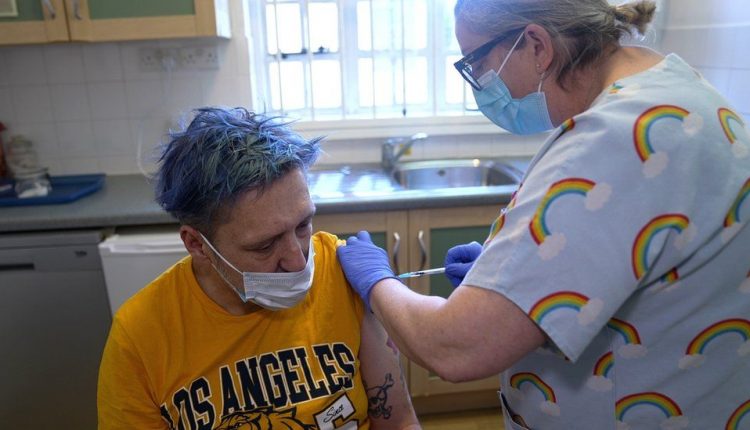 Covid: NHS in push to vaccinate the final four million
More than four million adults in the UK have not yet had a first Covid jab and 16 million have not had their booster. This winter, NHS vaccine teams have been out on the streets trying to win over those hard-to-reach groups who might have struggled to access health services in the past.
Carole Phillips, an NHS clinical director in Portsmouth, is best described as a straight talker. A former army medic who served in Afghanistan, she is now running outreach programmes in the city – trying to get the Covid vaccine to the most vulnerable.
"In Portsmouth, we have still got a large percentage of the population – 20% – who haven't had their first jab," she says. "We have to reach out to these people, regardless of their lifestyle, to protect all of us in the end."
Carole and a colleague are out jabbing people at a walk-in clinic based in the Recovery Hub – a local centre aimed at the homeless community. There is a steady stream of people coming in, with their bags and dogs, as she calmly explains the benefits of the vaccine and its possible side effects.
"All the myths on social media have also frightened some people. We are here to reassure them, but we are always going to have someone who doesn't want it."
Just after midday, 53-year-old Barry Wilson arrives for his first jab of Pfizer. He has been living rough, or in a hostel, since 2015 but says he has "done his research" and is worried about the virus, especially with his underlying health problems.
"I feel like one of the lucky ones because I've never had Covid, so I just keep putting [the vaccine] off and off," he says. "I've asked a lot of people who've had the jab and they said, because I've got [the lung disease] COPD, then I'm at higher risk."
How can I get my booster jab?
Do vaccines work against Omicron?
It is very difficult to accurately measure vaccination rates in the homeless population, but people working in the community say take-up is well below the national average.
There is an element of vaccine scepticism driven by social media and rumour on the streets. But often it comes down to access – this is a group who might not be registered with a GP and can have a distant relationship with health services in general.
Carole says she often hears "scaremongering" stories linking the jab with patient records and the social care system.
"If you get somebody who feeds them negativity, without any real truth, then sometimes it's hard to get past that," she says. "We have to reassure them that all we're trying to do is protect their health and protect them from Covid."
Over the last year, Carole and her team have vaccinated about 100 rough sleepers in Portsmouth – often going out on to the streets to speak to people directly.
Across the country, other targeted projects are up and running. In Sussex, a special "quiet" vaccine service has been set up aimed at people with autism and dementia. In rural Derbyshire, mountain rescue volunteers have been used to transport the elderly to vaccination sites.
Near the giant Lakeside shopping centre in Essex, a long lane leads to the largest community of travelling showmen in Europe. About 2,000 people live in static homes and caravans on yards off the main road – heading out from the site to fairgrounds to run dodgems, helter-skelters and other rides.
Two NHS vans are parked discreetly at the bottom of the road in the drizzle, open to anyone but aimed primarily at that group. Council liaison officers who know the community well are on hand for reassurance, advice and to give out rapid testing kits.
Madison Manning, 19, who is here for her second jab, says she still has memories of the "bad summer" of 2020, when the pandemic was just months old and many travelling fairs were banned from operating.
"We deal with hundreds of people day-in and day-out, so it's safer for both them and us to have the vaccine," she says. "Otherwise it's just going to keep going round in circles like it has for the last two years now. Life has got to carry on."
Madison did have her first vaccine dose at a local GP surgery but says she found it busy and unsafe. NHS staff working here recognise that mainstream services like mass vaccination centres can put off some in the community.
"They may feel stigmatised or judged in some way," says Lidia Woods, who is running the outreach programme for Essex Partnership University NHS Foundation Trust. "I know the nurses would never do that, but it's just their personal views.
"All the myths on social media have also frightened some people. We are here to reassure them, but we are always going to have someone who doesn't want it."
Emma Chapman, here to ask about a booster dose, says she decided to wait for her first jab after falling pregnant, and had it shortly after giving birth. "There are people who don't want to get vaccinated and that is their choice," she says. "I've got young children and older relatives so I wanted to be more protected."
The hope is that the Covid vaccine drive itself could have a longer term benefit and break down barriers between the NHS and groups which have struggled to access healthcare. Staff say the wider ambition is to tackle other health inequalities which have persisted for generations in some communities.
"For me it's all about reaching people and building a rapport for the future," says Carole. "And this could be a really good opportunity to do that."