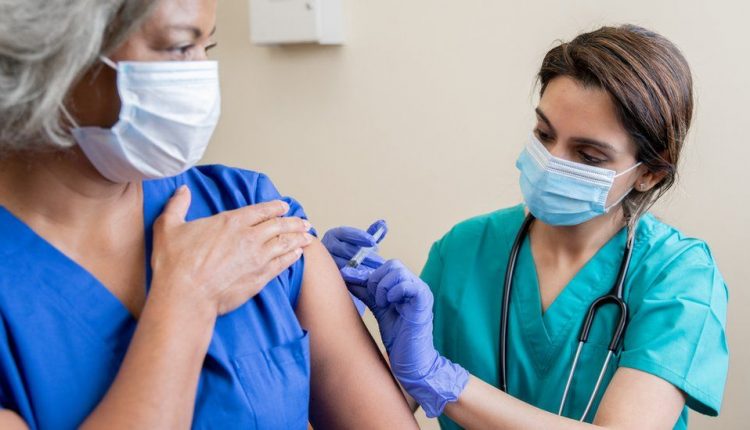 Call to delay compulsory Covid vaccines for NHS staff
The deadline for health workers to have a Covid vaccination should be delayed to prevent staff shortages in England, the Royal College of GPs has said.
NHS staff must have a first jab by 3 February and be fully vaccinated by 1 April to continue in frontline roles.
The Department of Health said there were no plans to delay and it was "the right thing to do to protect patients".
NHS workers who oppose the government's mandatory vaccination policy have staged a protest in central London.
Demonstrations were also held in other cities across England including Manchester, Birmingham and Leeds.
The UK recorded 76,807 coronavirus cases and 297 deaths within 28 days of a positive Covid-19 test, daily government figures show.
Martin Marshall, chairman of the Royal College of GPs, said compulsory vaccination for health professionals in England was "not the right way forward".
He said the vast majority of staff were vaccinated but some 70,000 to 80,000 were not and they accounted for 10% of staff at some hospital or GP surgeries.
"Ensuring staff are vaccinated is the right thing to do to protect patients and those in care."
Some 94.3% of NHS trust health care workers in England have had a first dose of vaccine and 91.5% have had a second dose, figures to 31 December show.
If unvaccinated staff were taken out of frontline roles by 1 April there would be "massive consequences" for the NHS, he told BBC Radio 4's Today programme.
He said a delay would allow time for booster jabs and a "sensible conversation" about whether vaccines should be mandatory at all.
Danny Mortimer, deputy chief executive of the NHS Confederation, said some frontline staff would have to leave their roles if they choose not to be vaccinated.
He said: "This will reduce frontline NHS staff numbers even further and lead to more gaps in capacity at a time of intense pressure and patient demand."
In London, demonstrators marched from Regents Park to the BBC headquarters in Portland Place in a peaceful protest against mandating vaccines for health workers.
But Dr Nikki Kanani, medical director of primary care for NHS England, said health care professionals had "a duty" to make sure they were protected.
She said: "If you're marching today, just take a moment, think about the people that you've been looking after who have experienced Covid, think about your colleagues who you've been working with, and think about the best way to make sure that we're all protected, and that we're all as safe as possible, because we are very much in this together and it's down to us to look after each other too."
Meanwhile, Kate, a nurse in Hampshire, told the Today programme she was prepared to lose her job rather than have a coronavirus vaccine against her will.
"I don't feel like the vaccination needs to be mandated because we are medical professionals and we have enough information to make that decision for ourselves," she said.
"When I had Covid I was ill but not particularly unwell and when it comes to me being forced to do something or lose my job, I just can't understand how they think that's a sensible position.
"I'm good at my job, I care about people, and I certainly have never and would never put people at risk."
'NHS could lose experienced staff over Covid jabs'
Vaccines compulsory for frontline NHS staff in England
Midwife fears for job over vaccine refusal
The deputy chief executive of NHS Providers, Saffron Cordery, said delaying the policy on mandatory vaccination was not the answer.
She said staff who worked with patients and choose not to be vaccinated "will be redeployed where that is possible, or potentially dismissed".
And while health bosses were worried about "exacerbating staff shortages at a time when the service is under huge operational pressures", the majority backed the policy.
She said: "The last thing trust leaders want to do is further deplete the workforce by dismissing their staff, but they are obliged to implement the law."
On Wednesday, some Conservative MPs called on Boris Johnson to rethink the policy.The prime minister told the House of Commons the plan was supported by the NHS and that healthcare workers had a "professional responsibility" to get the jab.
But he added: "We will reflect on the way ahead. We don't want to drive people out of the service."
A Department of Health and Social Care spokesperson said front line staff looked after the most vulnerable people in society, who could face serious health consequences if exposed to the virus.
"Ensuring staff are vaccinated is the right thing to do to protect patients and those in care."