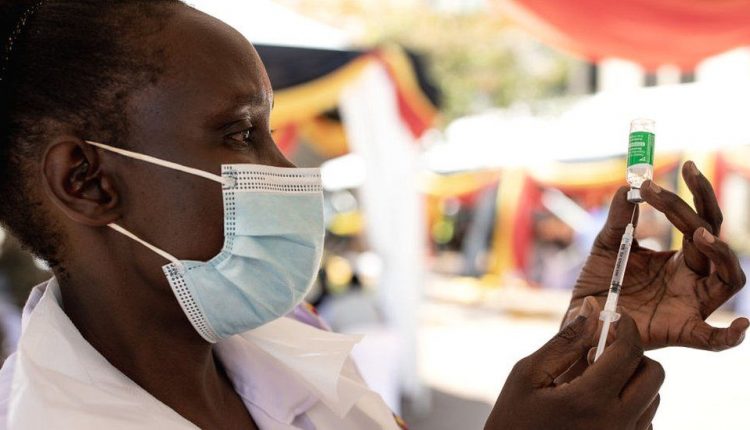 Covid: Scientists warn over 'reckless' lack of vaccines for poorer countries
Scientists have warned the government that allowing large numbers of people in lower-income countries to go unvaccinated is "reckless" and could lead to new Covid variants.
More than 320 experts have written to Prime Minister Boris Johnson, calling for urgent action.
They say more than three billion people globally have not had a first dose.
The government said it was working to tackle underlying issues to ensure developing nations had vaccines.
Many in the UK have had three doses and more than 90% of over-12s have had at least one shot.
In their letter, the experts argue that the Omicron variant is a stark warning of the dangers posed by global vaccine inequality. Jabs can help keep infections low, giving the virus fewer opportunities to mutate.
They are asking ministers to support moves to waive the intellectual property rights on Covid vaccines, so that developing countries can manufacture their own versions.
Some 13 scientists who sit on the UK government's scientific advisory committee, Sage, have also signed it.
Covid vaccines: How fast is progress around the world?
What will tomorrow's Covid vaccines be like?
"We recognise and share concerns regarding the level of vaccination in some parts of the world, and we are working on tackling the underlying issues including manufacturing and supply constraints, pressure on health systems, and vaccine confidence."
So far the UK and the EU have opposed the temporary lifting of patents on Covid-19 vaccines. The US surprised the world by supporting the move in May 2021 and the World Health Organization (WTO) is also in favour.
Former NHS chief executive Lord Crisp was one of the letter's authors and said vaccinating the world was the best way to keep the health service safe.
"The solution is global solidarity – working together and that means partnership," he said.
"It means – in the short term – releasing some of these patents in order to deal with this pandemic. I think the UK could take a massive lead on this. It's done very well on vaccination and has the most fantastic science base."
The UK government's main strategy for global vaccine access has been to donate excess doses. Last summer, the UK pledged to give 100 million doses by mid-2022, and so far has donated 23 million to poorer countries.
The pharmaceutical industry says it's in favour of equitable access to vaccines, but argues that if patents are lifted it would remove the incentive for the private sector to invest in research and development.
Richard Torbett, chief executive of the Association of the British Pharmaceutical Industry, said: "A rapid scale up in manufacturing involving 335 global partnerships means production reached 11.2 billion vaccines last year and is now at 1.1 billion vaccines per month.
"As acknowledged by the WHO, the issue is not production constraints, it is how we effectively distribute and administer those doses."
However, groups such as Global Justice Now, which helped organise this letter, argue that vast sums of public money were pumped into the efforts to find Covid vaccines.
South Africa and India are among the countries which have been pushing for a change to WTO rules to allow low and middle-income countries to manufacture their own versions of the vaccines, but consensus from all member states is usually required for such amendments.
Separately, there are worries that the push to vaccinate the world may lack the necessary funding.
Covax – the global programme to distribute vaccines to poorer countries – admitted to the Financial Times earlier this week it was running out of cash.
It says it may not be able to administer any more vaccines donated by richer countries if it can't afford to buy vital accessories such as syringes.
So far Covax has delivered more than one billion vaccines.
A government spokesperson said the UK's "significant early commitment" to the Covax programme had helped to deliver these vaccines.
The spokesperson added: "We recognise and share concerns regarding the level of vaccination in some parts of the world, and we are working on tackling the underlying issues including manufacturing and supply constraints, pressure on health systems, and vaccine confidence."