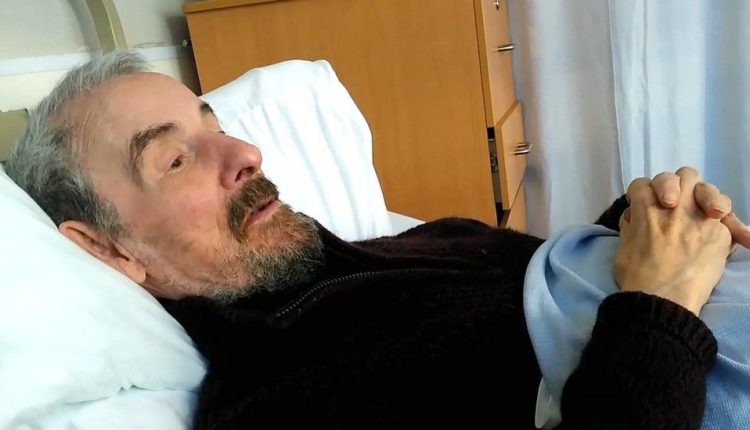 Five years in hospital 'is like dad being stolen'
The family of a man who has spent most of the last five years in hospital have spoken of their despair at his plight.
Donnie Watt has a range of complex medical problems but his daughter Jane fears her father has become "invisible" to the health service.
The family want the 85-year-old's diagnosis reassessed.
Donnie is part of a small number of patients with complex needs who have been resident in Scotland's hospitals for years.
Data on hospital beds being "blocked" by delayed discharges shows some patients are waiting more than five years to be discharged despite being fit to leave.
A delayed discharge is where a patient continues to occupy a hospital bed despite being clinically able to be discharged.
It is not a new problem but one which has worsened in the last year of the Covid pandemic as demand has soared across the NHS.
"Particularly frail older people are at risk in hospital of declining if we can't support them with their mobility, if we can't support them with their independence, then they are more likely to develop greater care needs – which creates a vicious circle."
Data from Public Health Scotland shows there were 46,894 days spent in hospital as a result of delayed discharge in November, 2021 – a 40% increase on the same month in the previous year.
Donnie's daughter Jane Watt said she was worried that people like her dad who have been on hospital wards for years were being overlooked in a stretched health service.
She said: "Everyone in the family feels helpless.
"It feels like my dad has been stolen in some ways and I don't want him to stay misunderstood or invisible."
Donnie was an intelligence officer for the RAF in Berlin during the Cold War before becoming a languages teacher and then running youth hostels in his retirement.
"He was a very sociable person who liked to help people out and was a good conversationalist," explained Jane.
"Before he got ill, there began to be odd fluctuations but nothing you could pin down. Then he started sleeping all the time, repeating words, he wouldn't eat and ended up eventually being admitted to a dementia ward."
Donnie's first admission to hospital in 2017 from his Glenrothes home saw a dementia diagnosis – but new symptoms emerged almost daily at points, including spells of only speaking German, according to Jane.
Jane said her mother, Patricia, has struggled with Donnie's extended stay in hospital.
"Sometimes she says, I can't do this, I can't drive to that place again," Jane explained.
"But she does go – the impact on her is she is in limbo, she sows all the time to distract herself."
'My dad has the right to answers'
In 2020 – despite family reservations – Donnie was judged fit enough to leave hospital. But despite Jane trying 18 nursing homes in the Fife area, a space could not be found and his condition then worsened.
The 85-year-old has not been considered well enough to be discharged since then.
Donnie's family have now submitted a complaint to NHS Fife about his diagnosis and, as what Jane describes a "last resort", it includes video and audio clips taken at his bedside to document what she said were his "densely packed, frequent and highly unusual symptoms".
"It took years for the cyclicity to be determined, although it was clear on admission and it took years for his two seizure types to be diagnosed," said Jane.
"We're asking questions but they are very valid questions, they are my dad's questions – my dad has the right to answers."
'Complex forms of dementia'
Nicky Connor, director of the Fife Health and Social Care Partnership, said Donnie's situation was a "highly complex case" and she was unable to comment further on a particular individual "for reasons of patient confidentiality".
She added: "The diagnosis of dementia is incredibly difficult for any individual and their family. The ideal is for those living with dementia to be cared for in homely setting.
"For those individuals who have more complex forms of dementia, and whose needs could not be appropriately and safely met at home or in a care home, we have a number of specialist dementia care units in Fife."
Latest available Public Health Scotland figures on so-called bed blocking show there were 1,500 delays in November last year – up from 1,084 in April.
The lack of available social care support in the community was the main driver for this increase in tandem with the NHS facing the "biggest crisis" of its existence.
The majority of patients face delays of between one day and four weeks.
But 14 people had been waiting 12 months or more to be discharged as of November.
£300m fund to get NHS through 'challenging' winter
NHS Scotland's 'biggest crisis' in five charts
Care workers 'not adequately valued or rewarded'
Separate figures released to BBC Scotland under freedom of information laws show the longest wait an individual delayed discharge patient has had in each health board area.
As of October, 2020, NHS Fife had a delayed discharge patient (not Donnie) who had been waiting just over five years to leave hospital, NHS Forth Valley's longest wait was 4.7 years and it was 1.4 years for Scotland's biggest board, NHS Greater Glasgow and Clyde.
The Fife Health and Social Care Partnership said a "small number of patients, often with extremely complex needs" needed to stay in community hospitals until a specialist social care package is put in place.
Dr Marion Slater, a geriatrics consultant and council member at the Royal College of Physicians of Edinburgh, said that more investment in social care was needed or bigger problems with delayed discharge "will be inevitable" across the country.
She said: "The main reason for being delayed in hospital is the social care isn't available when they need it or there isn't the equipment they need to get home.
"Particularly frail older people are at risk in hospital of declining if we can't support them with their mobility, if we can't support them with their independence, then they are more likely to develop greater care needs – which creates a vicious circle."
The Scottish government announced a £300m funding package to help the health services get through the winter which included a pay rise for social care workers and £60m to maximise the capacity of care at home services.