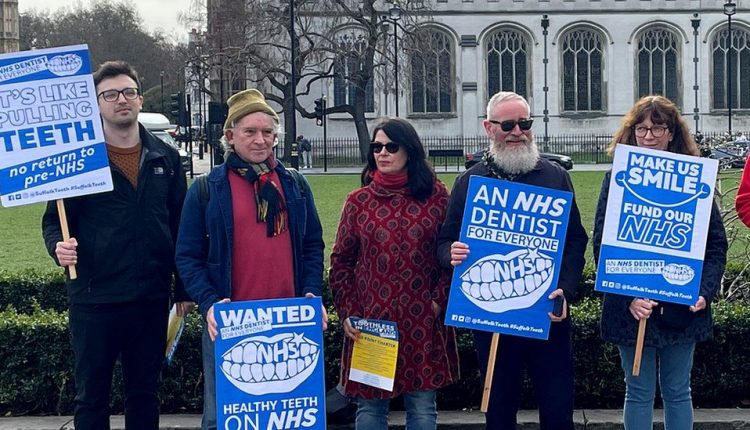 'Dental deserts' with no NHS provision on the rise in England, MPs warn
Campaigners have called on MPs to "act now" to improve patchy and under-funded NHS dental provision.
Toothless in England said reform of the current dental system was "long overdue" and the government was "continuing to ignore the very real and acute needs of the general population".
MPs debated the issue, warning some areas in England were "dental deserts".
But the government said it was putting in £50m extra funding to ensure people got the care they needed.
Patient 'glued own teeth' as dentists drop NHS work
Pandemic 'worsening access to dental care'
WATCH: Why is it hard to get an NHS dental appointment?
"That's on top of the our unprecedented support for NHS dentists during the pandemic, including protecting the incomes of dental practices which couldn't deliver
all their usual services."
Members of Toothless in England took their demands to Parliament Square ahead of Thursday's debate.
They are calling for NHS dentists to be guaranteed for everyone, reforms to encourage all dentists to offer NHS treatment, and to make care free at the point of use.
The campaign group began in Suffolk after two dental practices in Leiston closed, leaving over 6,000 residents without an NHS dentist.
Local Conservative MP Peter Aldous set up a debate on the issue in Westminster Hall, an annexe off the main Commons chamber.
He said he got at least 10 emails a week about a lack of dentists, as well as people coming up to him on the street.
But the issue is wider, with the British Dental Association saying the number of dentists working in the NHS in England fell by almost 1,000 last year.
Two thirds of their members also indicated they would reduce their NHS commitment over the next 12 months, while more than a third said they planned to go fully private in the next year.

'We make a 60-mile round trip for the dentist'
Julie Lawrence and her family moved to Northwich in Cheshire two and a half years ago, but have not been able to register with a local NHS Dentist.
"I couldn't even get on a waiting list", she said.
Julie spoke to her dentist back in Salford who she says advised her to stay on their books.
"So we now travel a 60-mile round trip, but it means we've got NHS dentistry. It makes me feel guilty because I'm taking a place someone in Salford could have, but I know I won't get a dentist anywhere else."
Getting an appointment can still prove difficult though. Julie says her 10-year-old daughter has two rows of teeth because her baby ones are not falling out and her adult teeth are coming through.
"Because she's not in pain it's not an emergency appointment, so we have to wait six months," she added.

Opening the Westminster Hall debate, Mr Aldous said dentistry had been the number one issue in his email inbox.
He said net funding across England had been reduced by a third over the past decade, and while the government had put more investment in, he worried it was "a short term sticking plaster [which] may not provide a long term solution".
He added: "The situation can be likened to a house, built on shallow and poor foundations.
"The earthquake of Covid has led to that house falling down. And there are now parts of the country, particularly in rural and coastal areas… that are dental deserts."
Labour's Judith Cummins, who co-sponsored the debate, said Covid had a "devastating impact" on dentistry, with over 40 million appointments being lost over the pandemic, and more dentists leaving the profession.
She added: "NHS dentistry was in trouble before Covid-19, and now NHS dentistry is facing an emergency."
Minister for Patient Safety and Primary Care, Maria Caulfield, promised dental care was an "absolute priority" and the government was "serious about reform".
Toothless in England's campaign coordinator, Mark Jones, said he was "encouraged that a debate on access to NHS dentistry was being heard", but the message they had for MPs was simple.
"Government, together with the Treasury and NHS England, need to act now to ensure the lack of NHS dental provision countrywide is finally addressed," he said.
The Department of Health said the government was giving the NHS £50m for up to 350,000 extra dental appointments "to allow more people to get the oral care they need".
A spokesman added: "That's on top of the our unprecedented support for NHS dentists during the pandemic, including protecting the incomes of dental practices which couldn't deliver all their usual services."