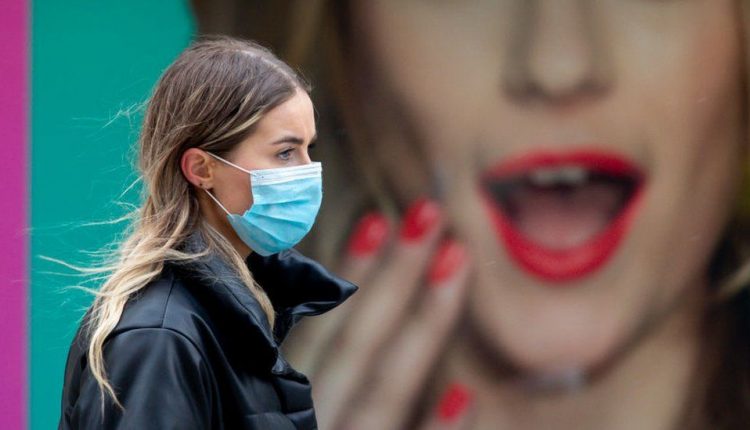 Covid: Wales' face mask law could be scrapped in March
The law in Wales requiring people to wear face masks could be scrapped by the end of March, First Minister Mark Drakeford has said.
The Welsh government said falling case rates meant it could begin to ease its remaining coronavirus restrictions.
Covid passes for entertainment venues, nightclubs and large events will no longer be needed from 18 February.
Also, pupils will not have to wear masks in class from 28 February and schools can then decide their rules.
The law requiring face coverings in most public places will be relaxed from 28 February as well.
While they will still be required in shops, public transport, hairdressers, salons and health and social care, they will no longer be needed in venues such as places of worship, cinemas and museums.
What are Wales' Covid rules now?
Wales' first minister tests positive for Covid
Lateral flow test rule for Covid pass tightened
Self-isolation rules are being kept in place, but ministers will look again at this and other remaining regulations at the next Covid review, which is due on 3 March.
Economy Minister Vaughan Gethin told BBC News the remaining restrictions may be removed at the end of March.
"At that point we may move to self-isolation being guidance rather than mandatory but at this point we think it is still important to have that as a protective measure in law," he said.
"In the meantime, the Welsh government must set out the steps for what criteria must be met for all restrictions to be lifted in Wales."

In England Boris Johnson said that self-isolation rules could end by 21 February.
Mr Gething said this was a "highly unusual" move by the Prime Minister which had not been discussed between the Welsh government's and the UK government's chief medical officers.
He added: "There'd been no advice from SAGE, no joint recommendation or discussion between chief medical officers saying that this was the right thing to do, no scientific advice provided, no meeting between health ministers in advance.
"Things which would have been quite normal if significant changes were being made in the course of the pandemic."
He was asked what would happen to someone who had Covid who lived in England but came to work in Wales without self-isolating, Mr Gething said that person would be "in breach of the law".
"If you are in Wales, you need to follow the rules in Wales, it's that simple," he said.
"The difficulty always is finding who has breached the rule but the clarity is that there an important reason to self-isolate. If you test positive then you are still infectious.
"At this point it is still an important measure to have in law."
He also confirmed that Covid passes would still be required for this weekend's Six Nations rugby match in Cardiff.
When will all Covid restrictions be removed in Wales?
The Welsh Conservatives called for a date for the removal of all Covid laws, while Plaid Cymru said Labour ministers should spell out what criteria must be met for the restrictions to be lifted.
Mr Drakeford said his government was "confident that coronavirus rates are falling and we can look forward to brighter times ahead".
But he said he would not remove all measures at once "because the pandemic is not over yet".
He added: "To keep Wales safe we need to remain cautious and do everything we can to reassure those who feel most at risk.
"Next month, we will publish a plan setting out how we will move beyond alert level zero and the emergency footing on which we have been operating for nearly two years."
Mr Drakeford has tested positive for Covid and is self-isolating.
Speaking on Sky News, economy minister Vaughan Gething said Mr Drakeford was "fine all things being considered".
"He was able to work through most of yesterday but he's self-isolating to protect other people," added Mr Gething.
'There should be a new normal'
Leandra Craine, 23, who works for Disability Wales, said she was worried too many restrictions were being eased at once.
"I especially think of friends and family members who are immuno-supressed and have been having to shield for two years," she added.
"My main concern is that being too quick could really destroy the work we've done so far over the last two years so far.
"We're just lucky enough to benefit from vaccines, for example, and we're more protected… I don't think we should go back to normal as was, as I don't think it was working too well.
"I think there should be a new normal."
The Welsh Beer and Pub Association has welcomed the changes.
Chief executive of the Welsh Beer and Pub Association, Emma McClarkin told BBC Radio Wales: "It's going to take a lot longer in the lifting of restrictions to remove the impact of Covid.
"In Wales it has been hitting businesses much deeper and will take much longer to recover in Wales. We are desperately needing to get back on track and helping build that confidence with our customers as we move forward."
Laws requiring the wearing of masks in indoor spaces were introduced in Wales in September 2020.
Wales' plans are slower than the timetable set out for England, where the UK government said all remaining Covid laws could be scrapped later this month.
It lifted mask requirements last summer, before briefly reintroducing them for the Omicron wave at the end of 2021.
Covid passes were introduced last autumn following a farcical Senedd vote where the opposition failed to stop the government measure from passing after a single Tory, away at party conference, did not vote remotely.
That was despite opposition from the Conservatives, Welsh Liberal Democrat Jane Dodds and – at the time of the vote – Plaid Cymru – exactly half of the Welsh Parliament and enough to block legislation from becoming law.
Under the Welsh government's alert level zero laws, only a few Covid restrictions are left after most of the restrictions put in place due to the Omicron variant were removed in January.
Other rules remaining include a requirement on businesses to have coronavirus risk assessments.
Wales' Covid rate was 412 per 100,000 people on Thursday and is substantially down from the height of the Omicron wave.
The Office for National Statistics infection study also suggested that the percentage of people testing positive for Covid decreased in the week ending 5 February.
Friday's press conference detailing the changes will be led by Economy Minister Vaughan Gething, instead of Mr Drakeford, who is isolating after testing positive for Covid.
Andrew RT Davies, Welsh Conservative Senedd leader, said: "Thanks to the excellent vaccination programme and everyone's hard work, the trend of infections, hospitalisations and deaths is downwards, a positive progression that shows the diminishing threat of the pandemic.
"Given these positive developments and the success of the vaccination campaign, this must mean that our freedoms in Wales are returned in full without delay."
Plaid Cymru's health spokesman Rhun ap Iorwerth urged the Welsh government to "keep things steady in the very real hope that we won't need to take a step back to any further restrictions in the future".
He added: "In the meantime, the Welsh government must set out the steps for what criteria must be met for all restrictions to be lifted in Wales."