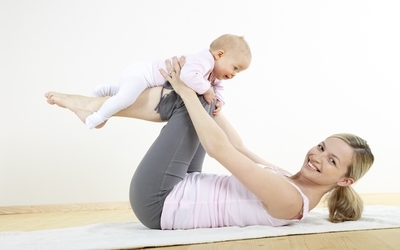 Study Shows Young Mums How to Prevent Weight Gain
There's a growing trend (pardon the pun) of young mums piling on the pounds in their middle age. As young mums are now gaining weight at an even faster rate than middle-aged women, they face greater wellness risks of developing chronic weight-related diseases and health issues like diabetes. However, according to recent research, a few super-simple lifestyle changes are all that's needed to stop young mums putting their wellbeing at risk by becoming overweight or obese.
The study, which was undertaken by Monash University's Jean Hailes Foundation for Women's Health, is the first of its kind to focus on weight gain prevention as opposed to weight loss. The researchers recruited 250 mums, with an average BMI of almost 28, from 12 different primary schools, to participate in a low-intensity, community-based lifestyle programme. The researchers' aim was to develop and evaluate how effective community behavioural intervention is in preventing weight gain and improving overall health-related behaviours in women with young children. The results of the study revealed that while a control group who were not on the programme gained an average of 800g per person over 12 months – which is the expected annual weight gain of young mums – the women who were engaged in the community support programme did not gain weight.
One of the main factors of the programme was that it was easy to achieve and follow, as the researchers recognised that many mums of young children are too busy to fit in the recommended amount of moderate physical activity along with a nutritious diet. The researchers assert that their findings mean we need to shift our weight focus from diet and weight loss to the prevention of weight gain. According to researcher and accredited practising dietician Catherine Lombard, previous studies have demonstrated that women in a healthy weight range in their 20s become overweight or obese in their mid-life. It was with this in mind that the Jean Hailes Foundation looed at how to prevent the weight gain.
Lombard explained, 'We really wanted to make this program the least intense we could possibly get away with, so the least requirement for the women to have to turn up. We went in to the schools four times and talked to them more about their behaviour and things that are going on in their lives and let them decide what they wanted to focus on, rather than be too prescriptive. It was much more on problem solving and setting themselves goals and developing some action around what they needed to do in the short-term. We then followed them through with a text message once a month to remind them that they were part of this intervention, and they'd get a little message about their health.'
So what can you take away from this study?
1. Make long-term plans for a healthier lifestyle: Set realistic health goals one at a time. Start by creating healthier meal plans for the family, and then look at ways in which to build more exercise into your day. Find a friend to support you and monitor what you do.
2. Reschedule: Don't leave exercise until after you've done all your jobs for the day; schedule a walk in the morning when you have more energy and leave housework until the afternoon. While it sounds counterintuitive, exercise actually gives you more energy for the rest of the day, so walk your kids to school in the morning or meet a friend in the park and take turns to watch the children while the other mum walks.
3. Move more: No matter what you do, move as much as possible. Do step-ups on a back step or join your kids on the trampoline.