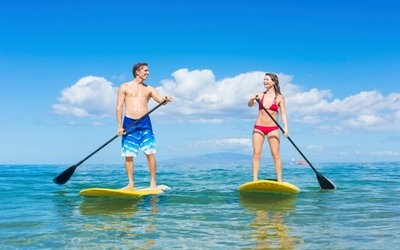 SUPer: Stand-Up Paddleboarding Gains Celebrity Status
Thanks to celebs like Jennifer Garner and Matthew McConaughey, stand-up paddleboarding (SUP) is a more popular fitness pursuit than ever before. However, the wellness benefits of this sport, which originated in Hawaii in the 1950s, were not always well-known. SUP-er Michelle McChristie, who works for the Ontario Ministry of the Environment and also publishes a regional outdoor magazine, details a time, even as recently as 2010, in which she got a few funny looks from people on the beach. 'Even when I explained—'You stand up on the board on the water and paddle'—people still seemed puzzled, she remembers McChristie. However, three years on, people are starting to see how SUP can benefit their wellbeing:
1. Sculpt a strong core: According to Paddle Canada, the national paddling sports association (which covers kayaking, canoeing and SUP) the number of participants taking courses more than doubled between 2011 and 2012. Ben Schram, a physiotherapist studying SUP at the faculty of health science and medicine at Bond University in Australia, says he's not surprised at this statistic as SUP is 'relatively simple to learn.' Moreover, he adds, it's a killer workout, particularly for your core muscles; it's easy on your joints; and it improves your balance.
2. Meditative benefits: McChristie explains, 'I like the challenge of learning a new way to paddle, and the perspective of standing up rather than sitting down.' As well as noticing stronger core muscles, the real benefit McChristie takes away from SUP is the mental-health payoff. 'The calmness, the rhythm of the waves and the water and the paddling…. It's really meditative,' she enthuses. 'Being out on the board is a healthy way to escape the stress of a typical day.' This is especially the case compared to the stress of manoeuvring heavy canoes and kayaks. 'My fibreglass sea kayak is hard to manoeuvre on and off the car roof rack on my own,' McChristie says. 'But it's no problem for me to throw on my board [boards weigh only 20 to 25 pounds] and take off to the lake for a paddle.'
3. Versatility: Fitness trainer Jessica Rando asserts, 'SUP is versatile: You can paddle on lakes, rivers or oceans; waves or no waves. There was room for me to grow as a paddler in different water conditions, but it was also really easy to pick up and learn. I was addicted the second I tried it, and I think that's how it is for a lot of people.' She adds that SUP races are a great way for people to come together and enjoy exercise. 'Anyone can race!' Rando insists. 'It's a great community of people, and you get all ages and abilities. You'll be welcomed with open arms.'
4. Great cardio workout: Kelly Miller of Bowen Island had no experience with paddle sports, but ever since she saw it done in 2011 she hasn't looked back. 'A friend showed me how to use one, and I jumped on right away,' she recalls. 'It was amazing, like walking on water. We were out on the ocean on this beautiful calm night and watched the sun set. I was hooked.' The benefits are endless for Miller, as she points out, 'Besides your core strength, you use your arms for propelling yourself, and you get nice strong legs from staying balanced because there are waves from speedboats ripping by. It's good cardio, too, because half the time my friends and I are playing around and racing. It's just the perfect workout.' Next she hopes to try SUP yoga.