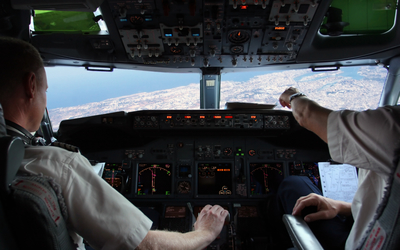 Tips on How to Avoid the Old-Time Pilot Fatigue
You were scheduled to fly an aircraft at 3 o'clock in the morning but instead of taking a good rest a night before to physically condition yourself, you decided to hang out with your friends and had long conversations over bottles of beer. The last thing you knew, you only had two hours left to sleep before your long flight. How did you expect your senses to cooperate when you were on the cockpit? Definitely, fatigue would take over your stamina and balance before you knew it.
Fatigue is one of the most common problems aviators have been facing for many years. Lack of sleep, emotional stress, night flying, poor health, and many other factors would cause pilot fatigue. And the problem can be magnified by some other circumstances. What is alarming about this issue is that it is affecting the entire aviation safety. Recorded flight-related accidents are usually associated with pilot fatigue. Of course, as an aviator you want the safety of everyone on board.
As a writer, I usually burn the midnight oil writing and polishing my articles. Fatigue is no longer a stranger to me. We always work together, I would say. Though it is different when you were an aviator, maybe my way of dealing with fatigue could somehow give you a little help. Consider the following tips and see if it would work for you.
1. Lack of Sleep: Learn how to manage your time based on your flight schedules. Make a plan and discipline yourself to stick on this plan. You have to make sure that you will get the ideal number of hours of sleep before your next flight—that's quality sleep. If your schedule would be tighter than you expected, find a way to steal a sleep. You need to physically reinvigorate so that your senses would work harmoniously.
2. Body Clock Adjustment: Having a concrete plan on how to manage your schedules is a big factor on your circadian rhythm. I know this is a difficult adjustment for your system but if you would know of your schedules ahead, you can definitely make a little acclimatization. It works for me, most of the time.
3. Mental and emotional stress: Whatever it is in your mind that causes that mental and emotional stress, leave it on the ground before you fly and get back to them when you have already fulfilled your purpose. Maintain focus on your duties and attend to the job at hand and make sure a safe flight from takeoff to landing.
4. Physical exhaustion: You can't exert much effort before your schedule. Always reserve your energy if you had your flight schedule. Do not exhaust yourself instead take a complete rest so that you will actively respond to the needs of your job.
5. Poor health: Good nutrition and proper diet should always be part of your utmost concerns. Observe your diet, eat well and choose the right foods that could boost your strength and help you maintain good health. Health management is a choice and a lifestyle. When you choose yours, always take into consideration the nature of your job.
6. Personal Gadget: Most of the time, it works for me to listen to my favorite playlist over my iPad while working late. Whenever I am on an article, it would keep me alive and mentally active. So most definitely, it would also work for you. A slim, lightweight and easy grip gadget such as the iPad would not be a hassle on your trip.
These simple and basic insights may not help you instantly, but will surely make a difference in your day to day survival as an aviator. The best defense against aviation accidents are proper physical conditioning, careful attention and observation of safety rules.
Author Bio:
Brandon Peters is an entrepreneur, writer, aviation and gadgets enthusiast. He loves to collect hi-tech gadgets and accessories, like the latest iPad keyboard and iPad keyboard case.